Publish Date - June 19th, 2022
|
Last Modified - September 3rd, 2023
Most likely, you've stumbled on this post because you're trying to find cheaper ACP resource to pass the exam. Like me, you've Googled and Googled for ways to pass the exam and come across hundreds of different bootcamps and other training strategies.
Many of these courses and bootcamps can end up costing you hundreds if not thousands of dollars. While the quality of these courses may be good, you've probably wasted your money.
This is why I've written this post, because my PMI-ACP journey (which I passed the exam on my first try), I started out using Udemy. So to save you time, headache and money – here are my recommendations for the best Udemy PMI-ACP courses on Udemy.
Note: If you have a little more money to spend, and you want to some extremely high quality questions with a similar interface to the one that you'll see on the real exam, check out PM-prep cast's exam simulator. I would not have passed this certification without this exam simulator, they also have a number of other great tools if you're willing to spend the money.
The 6 most useful PMI-ACP courses on Udemy
Note: There are affiliate links above and below to Udemy and other parties that I may receive commissions from. However, I highly recommend these products due to the fact that I've audited or taken them before. Please click through and support my website so that I don't need to run Ads :).
About Project Management Exams (PMI-ACP exam, PMP exam, Capm, PgMP exam)
If you've never taken an exam with the PMI before, it's a little different than other exams that you may have studied for in college or other certification courses. There are some characteristics that you should be aware of:
You need contact hours for each certification. This is qualified training hours by a certified PMI trainer (most of these courses in this list can provide that). For the PMI-ACP specifically, you need 21 contact hours from a certified course or professional.
There is no "official" exam prep for these certifications. While there are lists of reading materials and the PMBOK guide, the PMI has never released anything under their brand as a "study guide". They do have reading lists, and source material – but this can be over 20 books in some cases.
Memorizing concepts and laundry lists won't get you very far. You need to understand the principles and concepts to answer the questions correctly. For example, a question on the PMI-ACP may ask you not necessarily what the responsibilities of a agile project manager are, but how you can actually help a team member who's overwhelmed.
All exam questions are situational – they put you in an environment and expect you to know how an agile project manager should function and respond.
While there are dozens of certification courses (Pragmatic institute, CSM, PSM) the PMI exams are by far the hardest ones. Therefore, don't underestimate how much you need to study. I did over 20 practice tests, and studied for 100 hours to pass my PMI-ACP.
1. Best PMI-ACP Udemy course Joseph Phillips PMI-ACP Exam Prep Success (21 PDUS):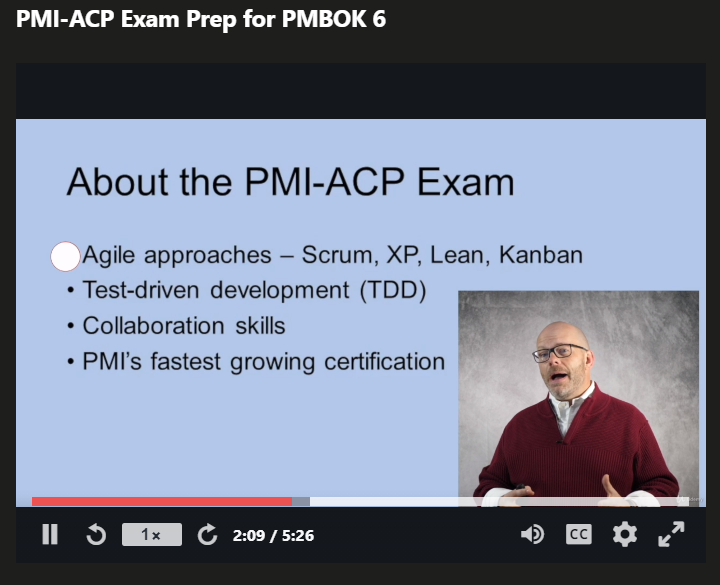 Overview:
This course covers all seven domains in the PMI-ACP domains of knowledge. You'll dive into a detailed analysis of the top agile practices and agile principles – examining what it means to "be agile" versus "doing agile". Scrum, XP and Kanban are heavily analyzed as well – with particular attention to all three of their rituals, the role of an agile project manager and roles of team members within each framework. The course also offers cross over from the project management professional course, where you'll see PMP calculations, value stream mapping and other major traditional project management concepts.
Pros:
This course isn't too long, and it will give you the 21 contact hours you need to apply for the course.
Very in-depth analysis on agile concepts (especially scrum), which from my experience are most of the questions on the actual exam.
Pretty good practice exams and quizzes. For the final exam of the course, I scored 83%
Joseph is a skilled project manager in his own right, drawing from decades of PM experience. This is why is instructor rating is so high.
During the course, Joseph will provide lots of real life examples.
Cons:
Some of the structure and content of the quizzes and tests don't align with how the actual exam is written and structured.
There are some test questions that aren't covered in his count.
While Value-driven delivery and Stakeholder engagement are the largest two knowledge domains, both in Joseph's course and the exam – I feel like Joseph's course could have been more thorough for both domains. I didn't feel prepared for these two domains after going over these two chapters.
This course only covers the PMBOK 6 which differs greatly from the PMBOK7. The PMBOK 7 is different in it's total length and scope versus the PMBOK 6.
What do his students think?
I wish i could give this course 4 3/4 stars. The instructor is thorough with his concepts and explains a lot of the concepts in more detail. The 1/4 star taken away would reflect the quizzes at the end that are clearly not written by the instructor. There are concepts and terms in the quizzes that are not addressed in the sections and rather than explain why the answer it right or wrong, it just says Answer B – A,C, and D are not the right answer. Thanks for clarifying /s/. I do like the delivery and I as a sit for my exam on 4/9/22, I'm confident this class will help me pass which is the only exam that matters

Shawn G. – 5 / 5 stars – August 2023
I found the course to be concise and complete to cover all the ACP exam domains. The instructors lectures were very informative and motivational. The mock exam however is not a simulation of the real exam and is only intended to test the learning knowledge of the candidate.

Craig M. – 5 / 5 stars – August 2023
Update as of 5th July 2023:

I cleared my PMI-ACP certification today. It was tough and tricky but Joseph's session helped a lot. Thanks for constantly motivating us throughout the learning Journey. I received this certification with 3 weeks of preparation. I got 6 Domains Above Target and One Domain on Target.

Dharmendra P. – 5 / 5 stars – July 2023
Why you should take this course?
Besides being one of the best selling PMI-ACP certification courses, Joseph holds this certification and has years of expertise as an agile practitioner. Therefore, he's able to add in all sorts of tacit agile knowledge tips into the course. This course has multiple practice exams, quizzes and exercises which will help you grasp "Agile".
Verdict:
I took and passed this course in late 2020, so it may have changed since then. However, with the practice questions after every chapter and the real world experience from Joseph – this online course is a must-have buy if you're just starting out for your PMI-ACP with PMBOK 6. If the project management institute (PMI) decides to update the exam for the PMBOK 7, Joseph and his team will definitely need to update this course.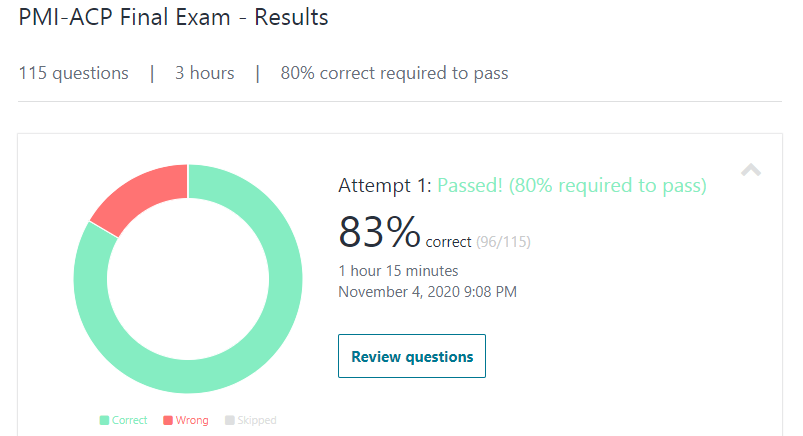 Check the course out now on Udemy.
2. Highest rated course – PMI-ACP Certification Exam Prep 21 PDU Course. FULL TRAINING by Andrew Ramdayal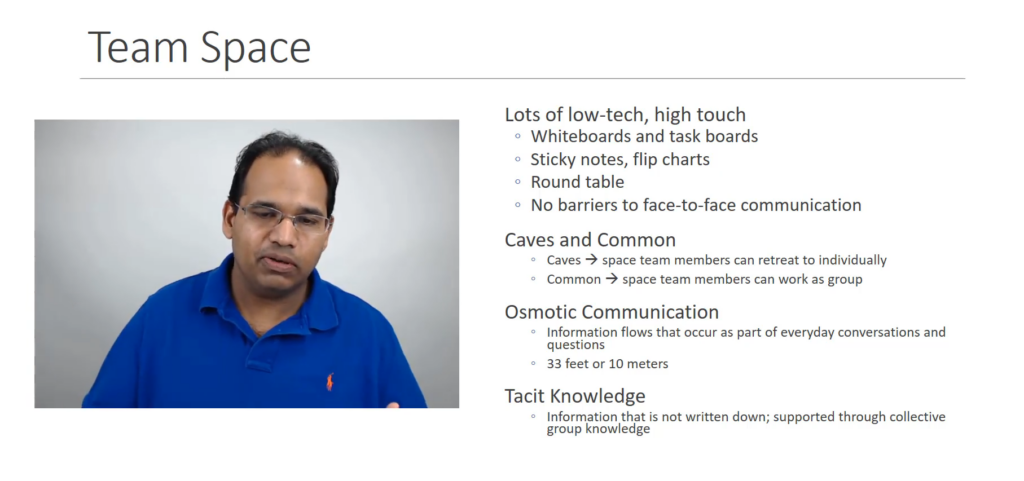 Overview:
Another great choice for your 21 PDUs, Andrew Ramdayal provides full coverage of all seven knowledge domains for the PMI-ACP, drawing on this own wealth of experience as an agile project manager. The course's largest knowledge domain is agile foundations and frameworks focusing on XP and scrum disciplines – with a light touch on Kanban, Lean and other disciplines. Common concepts learned are:
Active Listening strategies
Face-to-face communication (important)
Emotional intelligence matrix
User stories, Ideal time, Estimation and control limits
Team spaces (co-located and virtual)
Tuckman's model
and much more..
The course rounds out with an exam, similar to Joseph Phillips.
Pros:
Fairly short course – which you can finish in one full day if you breeze through it.
Covers everything you would need to know for the PMI-ACP at a high level.
Andrew Ramdayal, like Joseph Phillips – has many years as an agile project manager.
Good coverage of team performance and examples.
Cons:
The core focus of this course is PMI-ACP, and nothing else. Unlike, Joseph's course – Andrew doesn't add any extra stuff.
The practice exam wasn't the greatest in my opinion – and the questions don't match PMI-ACP questions.
Students complain about it being difficult to actually claim the PDUs, although it may be they're new to claiming the courses.
What do Andrew Ramdayal student's think of this course?
Today I cleared my PMI-ACP exam with AT in all 7 Domains.

It is an amazing course consists all Agile Principles & Practices. Andrew is explaining very well which will be understandable by anyone who doesn't know anything related to Agile.

G R Ganesh B. – 5 / 5 stars – August 2023
Great course. The Instructor was very engaging. He managed to keep my interest throughout the course even though some of the material is rather dry. His entertaining hybrid accent helped :-). Appreciated his "street sense" guidance on issues such as the PMI applications, exams etc. It is clear he loves teaching. I filled out my application using his guidance and submitted it to the PMI. It was approved. I will now schedule my exam. Thank you.

Update:

Passed my ACP-PMI examination yesterday, August 4, 2023, with Above Target scores in all domains. The questions of the exam were conceptual and scenario based. They were much tougher than the quizzes included in this course.

All good. Mission accomplished. Thank you.Show less

Vedant P. – 5 / 5 stars – August 2023
Why you should take this course?
It's short, succinct and sweet. Take this course if you want to get the 21 PDUs, but I wouldn't rely on it to solely pass the exam. Andrew's English is quite strong (despite some student's complaining) and the content is well put together based off the PMI's knowledge requirements. Since this course is almost 50% shorter than Joseph Phillip's, it'll be a lot easier to clear this and get the PDUs faster.
Verdict:
Take this course if you want the PDUs quickly, or want a launching point for your study notes for the ACP. The total hours for this course is 9 hours, but with the exercises and the test it'll probably take you 13 hours from start to finish. This is if you're an effective note taker. Andrew does a good job describing agile methodologies and getting you into the agile mindset. Great course overall, if you can successfully claim the PDUs ;).
Check the course out now on Udemy.
3. PMI-ACP Practice Exam – two practice exams by Joseph Phillips

Overview:
This course is specifically two practice exams that are meant to simulate everything in a similar test environment for Joseph's main course. The practice exams will cover tons of topics, from "What are the core competencies of a Product owner?", to "How many weeks are in a normal sprint iteration?". Ultimately, these courses should be taken after you've studied for the PMI-ACP as a means to ensure you can pass the exam.
Pros:
Two practice exams! Which is great to build your confidence, and testing fortitude when you write the exam.
Some questions are modelled after the ACP exam, while other ones are not.
The testing material covers all of the domains, albeit some of the coverage is weaker than others.
Cons:
These questions haven't been updated since November 2021, which is a crucial time since the PMBOK 7 replaced the PMBOK 6 at this time.
Some questions are not structured at all like the real exam. No exam question will ask you how many weeks are in an average sprint iteration. The questions will be more focused on real world application, like "John is a product owner and trying to figure out how many weeks his sprint should be, what are his next steps".
Some answers are ambiguous and need clarification – I even corrected one of the answers for test two.
What do Joseph's students say about his course?
Not all the questions are written in a quality good enough to provide good answer. For example question about the right tool in agile to find potential issues (effectively risks) where the answer is daily stand-up that talks about existing issues / problems rather than risks etc…

Jacek M. – 5 / 5 stars – February 2022
yes, I took the classes as prep for the exam several months ago and then had a long gap due to the pandemic, I took a first try to see how much I remembered so I can maximize efficiency of my review. Having this practice available was a very helpful benchmark.

Jena P. – 3.5 / 5 stars – June 2021
The questions are pretty well structured. I would also prefer that the results of the tests are broken down in the same format as the exam. This will enable the candidates to know the arears of improvement before the exam.

Enos M. – 5 / 5 stars – January 2022
Verdict:
I took this course and it helped me pass the exam, in December 2020. This means that I haven't taken this course in a while and it may not be valid anymore, but it was fundamentally helpfully when it came to passing the exam. If you have a few bucks to spare, take this for some extra practice – but if you're strapped for cash – I wouldn't both, you money is better spent on the PMI-ACP simulator on prepcast.
Check the course out now on Udemy.
4. PMI Agile Certified Practitioner (PMI-ACP ®) Practice Exams by Tech Agilist
Overview: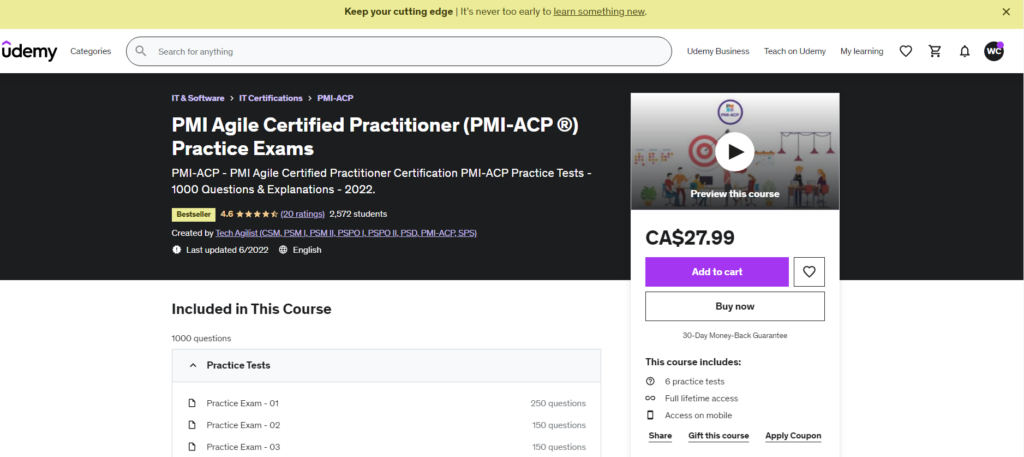 A new course which has six practice exams, this is a relatively new course with very low ratings – but extremely high reviews. These exams cover all of the knowledge areas and have information about every single term and topic in the PMI-ACP handbook.
Pros:
For a low price, you can get almost 1000 questions that are similar to the PMI-ACP.
The exams roughly match what you might see on the exam.
It's newly updated, and since it's a new course on Udemy – you know the author will keep it updated for the next few months.
There's some terms and topics from the PMBOK 7 in here.
The instructor answers a lot of critical feedback in the reviews, which means they are very responsive.
Cons:
I never actually took and kept this course, but I purchased it and returned it after reviewing the questions. They are very similar to Joseph Phillip's questions, but some questions seem like they would be right out of the exam.
The course is new, so it's hard to gleam feedback from reviews or ratings.
Tech agilist is a relatively new teacher, but has many different agile certifications.
What do the students say about the course?
Thank you for creating this exam practice tests, appreciate your efforts for creating a variety of question covering all domains with reference and explanation.

Sripathy K. – 5 / 5 stars – February 2022
The value of the practice exams are in the very detailed descriptions of why an answer you have given is correct or incorrect. This is perhaps even more valuable than the course itself

Derk van den H. – 5 / 5 stars – January 2022
Verdict:
I wanted to include another more updated set of PMI-ACP exams that's more fresh and provides you with a lot of practice. This course seems to be it, as it has the right amount of questions that are well structured for learning. While some of the questions are not similar to the PMI-ACP most of them are.
If you're looking for some quality mock exams that are updated for the ACP, this course has them. I personally found after using PMI prepcast and other training exams, that you'll see the same repeat questions (which you will know the answers too). Therefore, it's nice to have an extra 1000 questions.
Check the course out now on Udemy.
5. Special Mention – The Agile Certified Practitioner Training Program (PMI-ACP) by Sorin Dumitrascu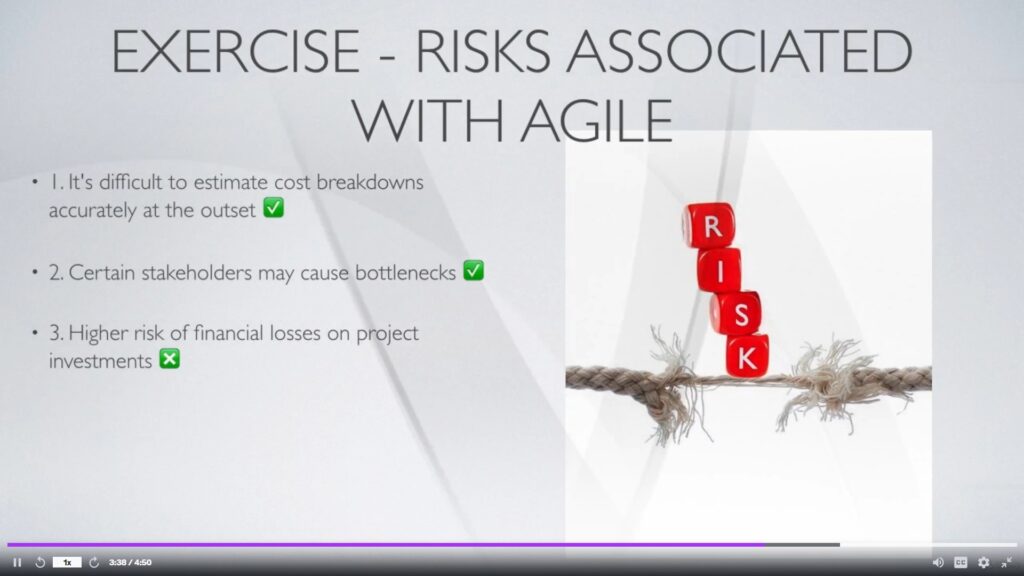 Overview:
An interesting set of Udemy courses, Sorin Dumitrasu takes a look at all of the major foundational portions of the PMI-ACP from a different lens. The course is broken into 10 sections over 22.5 hours, which look at everything from scrum development, to providing strong stakeholder engagement / management. At the end of the course, there's a few hours of working in agile software development (testing, tools and techniques) and then a small crash course on the PMBOK 7.
Pros:
Longest PMI-ACP review with positive reviews that I can find, so there will be a lot of content.
The lecturer responds to all negative comments and seems extremely empathetic.
There are a lot of tasks in-between lectures
Content was updated in 2022.
Sorin actually goes over the PMBOK 7 accurately (I have a copy and I've read it)
Cons:
Sorin is difficult to listen to as he's monotone and has a slight accent.
There's tons of extra "fluff" in this course that's not necessary to know for the ACP.
The visuals for this course are pretty weak – despite having slides, there's not much rich content.
He has a huge section devoted to scrum, but a small 5 minute lecture on Kanban. There were Kanban questions on my exam.
There's no practice exams.
Verdict:
For this course specifically, I would only buy it if you feel like purchasing a rather long agile course, to learn both for the PMI-ACP and want extra agile knowledge. The lack of practice exams make this course a "lunch bag let down". While Sorin is not a bad teacher, I personally think he misses the mark when building a study guide for the PMI-ACP. Take this course if you want to learn a lot about agile and software development while getting the 21 PDUs. If you don't care for the extra fluff, stick to Joseph or Andrew's course reviewed above.
Check the course out now on Udemy.
6. Special mentions – How to Prepare For PMI-ACP Certification by Chuck Cobb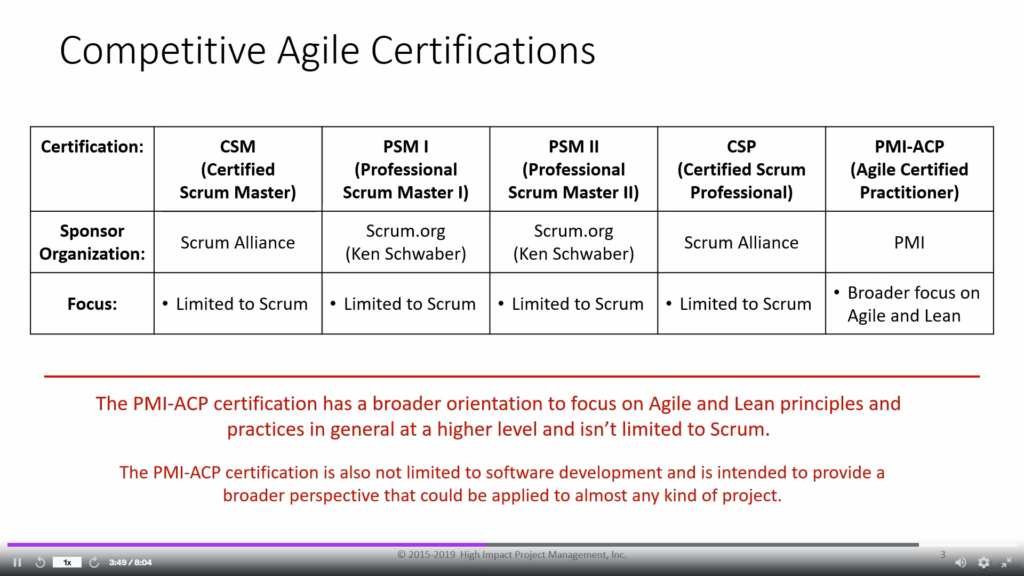 Overview:
The last course in my list, this isn't necessarily a PMI-ACP boot camp, or meant to help you pass the exam. It's meant to give you knowledge on the PMI-ACP exam, and provide in-depth information on agile project management, whilst comparing other types of online training methods / certifications. Chuck, in a short three hours, dives into the world of Agile giving you the following information:
A rough list of books and guides he's assembled to pass the PMI-ACP.
Comparing the PMI-ACP to other certifications.
A quick breakdown of important aspects of the knowledge domains.
Some tips on how to prepare and pass the ACP.
Pros:
This is short succinct course on how / what to study for the PMI-ACP. It's more like a syllabus than an actual course.
Chuck is a master in agile, having spent the last 10 years running, facilitating and working with agile project teams.
Chuck shows the value of the ACP versus other agile certifications.
Cons:
THIS IS NOT A FULL REVIEW COURSE ON THE PMI-ACP. It's more like a syllabus, so only take it if you want an agile master's opinion.
There are a few things that I feel like Chuck purposely missed in his syllabus (within the slides), but he does provide you with a massive downloadable document that has everything you need to study.
Verdict:
Ultimately, only take this course if you can get it for free via enterprise Udemy. That's what I did and it was a great way to figure out what I needed to learn and some ways to do it. Chuck is not a bad teacher – far from it, I feel like he could build one hell of a PMI-ACP course. That being said, this course seems more like a way for him to get students away from Udemy and onto his website. Save the $20 and take Andrew, or Joseph's course instead!
Check the course out now on Udemy.

Conclusion
If you've read this far, that means you're done and maybe you've decided to buy one of these courses I've recommended to help you take ACP. Ultimately, by themselves – these courses may not be enough to actually pass the exam, so I recommend reading my PMI-ACP review article – so you can familiarize yourself with other study materials. Also, it's good to get a wide breadth of different study materials under your belt, so you can properly assess what may be coming at you for the exam. Here are some tips before you write the exam:
Remember to focus on the agile approaches and frameworks – make sure you know Scrum, Kanban and XP.
Know how to lead an agile team and be a "servant leader". Facilitating a team and carrying "food and water for them" is important.
Understand completely; estimations (relevant games), user stories, how to run workshops, face-to-face communication, emotional intelligence, value stream mapping and other major concepts brought up by the PMI-ACP handbook.
Don't study a day before your exam, it won't help.
Try to study in an area where you will take the exam (comfort is key).
I hope this guide helps you on your way to passing the PMI-ACP! Let me know if you have any questions or leave a comment!
Frequently asked questions
Joseph Phillips vs. Andrew Ramdayal – which course is better to take to pass the PMI-ACP?
Ultimately, both courses are good for your 21 PDUs which will enable to you to take the exam. I personally took Joseph's course first, and then took Andrew's course afterwards to write this review. If you're looking to just get the 21 PDUs, and want a launch pad to study – take Andrew's course, it's shorter and to the point. If you plan on getting the PMP after your PMI-ACP, take Joseph's course since there's a ton of course coverage on PMP material.
What are the main differences between Joseph Phillips vs. Andrew Ramdayal.
The main differences between the courses are:
Joseph's course is longer than Andrew's (13 hours vs. 9 hours of videos) add another 3 hours or more for tests and exercises.
Andrew's course is more direct with the content, covering exactly what you need to understand and the scope of the PMI-ACP (perfect exam prep course).
Joseph's course covers a number of PMP concepts, which is good if you want to take the PMP after the PMI-ACP, but is a waste of time if you don't.
Andrew spends more time breaking down Scrum and XP, while Joseph touches on Lean, Kanban and a number of other frameworks.
Joseph comes at the angle of being a "Scrum master" whereas Andrew approaches the course as an agile project manager (yes there is a difference).