Publish Date - August 14th, 2022
|
Last Modified - May 22nd, 2023
Search engine optimization, is the holy grail of growth due to the rapid success of search engines like Google, Bing, Duckduckgo and Baidu. There are tens of thousands of SEO experts preaching different strategies on the internet to help maximize your organic search traffic through various means. While I personally learned SEO as an intern and then an SEO manager, most SEO noobs may not have the chance to learn SEO in an agency environment. Therefore, this is why I've created this article, to help you choose the best SEO courses on Udemy – so that you can grow your website, business and brand through various SEO strategies.
In this article, I will review a series of SEO articles that I think well benefit you and get your to the first page of Google with only white hat strategies.
Why believe this article?
As always (like many of my reviews), I've audited these courses to search for the best ones to help you rank on Google. On-top of that, I have over 8 years of experience doing SEO. I currently support businesses, local to enterprise with the following SEO support:
On-page SEO
Local SEO (Google my business, local searches)
Keyword research
General SEO Audits
I also spent a large portion of my career training business owners on how to evolve their content marketing and SEO strategy from scratch. Both of my websites that I own (yourdigitalaid.com and supertinyhomes.com) generate most of their traffic by organic SEO.
I'm subsequently written and built out business cases for SEO.
Therefore, I would consider myself somewhat of an SEO expert, and hope that these courses can teach you to become one as well.
Special callout to Dekker Fraser's Udemy Marketing course, where he not only teaches SEO but 60+ hours of marketing skills. Dekker is a solid instructor and an expert marketer having worked at Sony and Google as a marketer.
Here are 7 best search engine optimization (SEO) courses on Udemy of all time
Course
Ratings and Reviews
Highlights and tactics learned
1. Best Course overall (for WordPress websites)
by Joshua George.
4.7 / 5 stars – 7.5k+ reviews
Keyword research, On and off-page SEO
Technical SEO, pagespeed optimization, Google Algorithms
Negative SEO and SEO reporting.
2. Best introduction to SEO by Manos Filippou
4.7 / 5 stars – 150+ reviews
Content marketing, video optimizations, technical SEO, local SEO,
SEO for Bing and other search engines, SEO reporting.
3. Best course for keyword research by
Anthony Isaac
3.7 / 5 stars – ~300 reviews
Keyword research, Local SEO, Black Hat SEO
4. Best Link building SEO course on Udemy
by Thomas Moravek
4.4 / 5 stars – 150+ reviews
Different link building tactics, how to do link outreach, how to guest blog
and right good content that people will want, Wikipedia link building.
5. Best eCommerce SEO course on Udemy
by Jono Farrington (Shopify)
4.5 / 5 stars – 500+ reviews
A lot of on-page optimization for Shopify, and two plugins you can
use for your Shopify store. How to use auditing tools to optimize your
website.
6. How to build your own SEO Agency
by Joshua George
4.8 / 5 stars – 1k+ reviews
Start your own SEO business, sell your deliverables, how to price your
services, finding clients for your agency and reporting, retention + scaling
7. Best course to learn NLP and ML
for SEO on Udemy by Lazy programmers
4.7 / 5 stars – 1k+ reviews
Actually using Python, ML and NLP to build your own article spinners,
understand how Google's algorithm works and face recognition/
Note: There are affiliate links above and below to Udemy and other parties that I may receive commissions from. However, I highly recommend these products due to the fact that I've audited or taken them before. Please click through and support my website so that I don't need to run Ads :).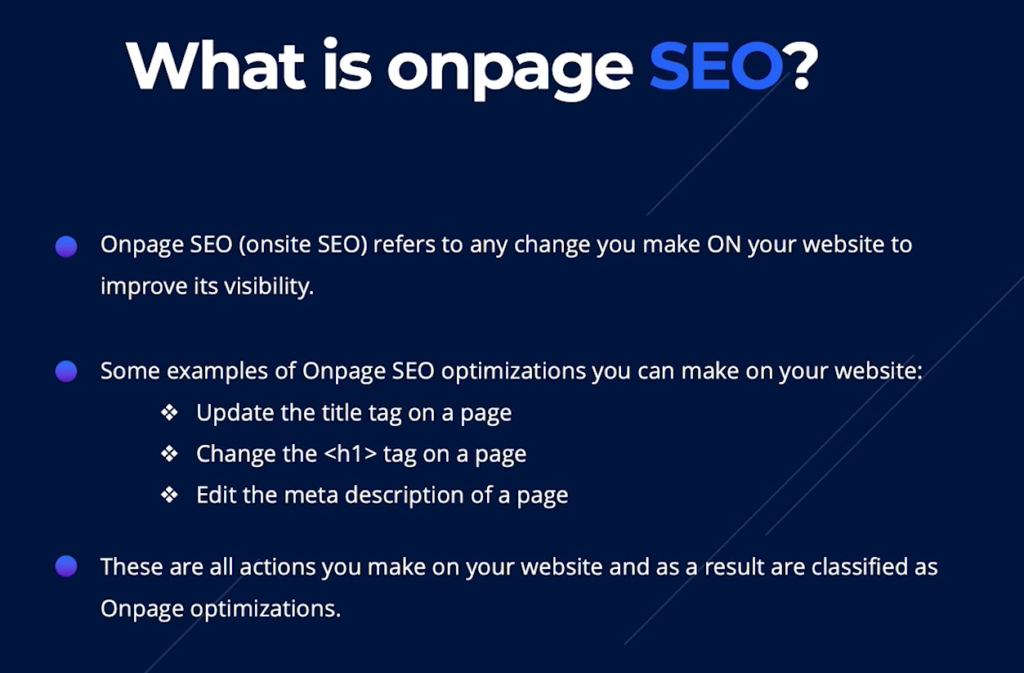 Overview:
This 7.5 SEO course is taught by Joshua George, an SEO agency owner based out of the UK. This course claims to have everything you need to understand and do SEO. With a 4.7 rating and over 4.3k+ ratings, it's one of the most highly rated SEO courses on Udemy. This course covers the following topics:
Keyword research and general SEO tactics
How to build high quality backlinks
How to use internal links to rank for keywords
Structure of content to capture rich snippets and rank on the first page
Content ideation
Technical SEO
How to measure your success in SEO
Doing SEO audits
This course at the end will show you free resources you can use and plugins covered in the WordPress environment that Joshua used.
Pros:
Good keyword research section and mention of some SEO tools (SEMrush, Google autocorrect, Google analytics, Search console)
The course mentions user experience as a ranking factor (technically the biggest one)
A good 1.5 hours on how to report on SEO success, I see a lot of tutorials missing this in their course
LOTS of coverage on link building (by far the most important SEO strategy in my mind)
Lots of quizzes and a few assignments which is nice
Cool that they mention negative SEO, most companies don't do that
Cons:
No mention of other SEO tools except SEMrush, I would have liked some sort of tiered strategy (Cheap, medium, expensive) since these tools can be costly
Mentions technical SEO, but only provides a 6 minute video on Schema. Also, doesn't go over crawl budget and JS loaded content – both important aspects of Technical SEO
Content refreshing and content strategy is something that's sorely missing from here. Most publication's strategies purely rest on this and proper keyword research
Google Algorithms (Panda, Penguin etc..) don't mean anything anymore. Google is always testing and doing algorithmic changes, with a general core updating happening mostly once a quarter
More basic SEO tactics, instead of advanced SEO
Only covers WordPress SEO, despite it being the most popular CMS in the world – there's hundreds of other frameworks out there.
Who is this course for:
Someone looking to start out in SEO or understand how SEO works
A business owner looking to know what SEO agencies should offer
A web developer who wants to understand SEO more effectively
Who is this course not for:
Someone who does SEO for a living – this course is informational enough that you have topical understanding of link building, negative SEO and keyword research, but not enough knowledge to actually run the campaign well enough without practice.
What do the students say?
I came into the course with very limited knowledge about SEO. I originally took the course to better understand how to vet an SEO agency for my wife's website. I now feel confident enough to do it myself. She just got a new website done (not one of those inexpensive ones) that was supposed to include SEO it. Using the technique I see several areas where the site was poorly implemented from an SEO standpoint.

I found this course excellent and the instructor very engaging. I was particularly grateful for the live demonstrations. I have already signed up for his advance SEO course which I will start after I make the improvements I've learned from this course.

Matt M – 5 / 5 stars – August 2022
This is an amazing course!

I didn't understand anything about SEO, but now after a detailed review of all the materials that Joshua gives, I feel like a giant of SEO (a joke – of course, I have to go through several more years of practice). A lot of theory, even more practice and a huge amount of experience is immediately felt when listening to this course.

I wish great success to the author of the course Joshua and to all those who have reached the end and plan to develop in this topic!Show less

Polina B – 5 / 5 stars – June 2022
Verdict:
This is a great course if you don't know anything about SEO and are trying to pick up the SEO fundamentals. It's built mostly for business owners who may want a peek under the hood on how their SEO employees or agencies operate, while not getting confused with lackluster SEO strategies. I see the value in the course if you're new to SEO and want a kickstart in the right direction. Both Joshua and his agency know the core fundamentals of SEO.
I would say that only issue with this course is it lacks advanced tactics. As stated in the pros, many of the topics covered by Joshua could be small 2 – 4 hour courses in themselves. This isn't including actual examples and strategies on real world clients and websites.
However, you're looking to start your career in SEO, and want a cheap course to start it – this is the one.
Get Started with Joshua's Course Now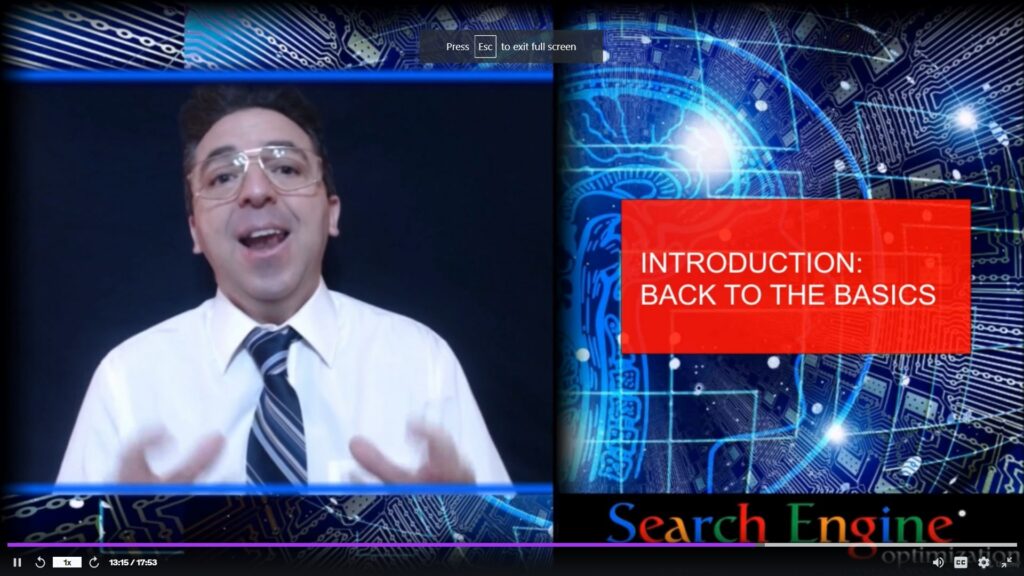 Overview:
This 4.5 hour course with a 5 / 5 stars, looks at all important aspects of SEO from a 2021 perspective. Some of the top things that the course looks like are:
Expertise, Authoritative and Trustworthiness (E-A-T)
Your life your money (YMYL)
Visual Search
Rich snippet ranking
Backlinking
Content marketing and local SEO
Technical optimizations
Bonus lectures from women in technology
Manos Filippou has almost a dozen course with most of them being extremely highly rated.
Pros:
Good coverage of SEO tactics including E-A-T, YMYL, Visual Search, Voice Search
Brings up modern SEO, which is a good refresher
Course is good length, something you can watch in under a day.
Manos is friendly and enthusiastic teacher, and his English is pretty good for it being his second language.
Cons:
For an SEO expert, this course is a waste of time since it doesn't really offer tactics or "how to execute" on these examples, it's more informational
No quizzes, assignments or work sheets
While Mano's courses are highly rated, his website authority, content strategy and overall SEO for his own website is pretty poor.
This course is more focused on SEO for WordPress
With content marketing being ~30 minutes, technical optimizations being ~9 minutes and local SEO being 13 minutes, you can't possibly learn how to do these things in that short of time.
Who is this course for:
People who want to top up on their SEO skill since they've been out of the game for a while.
Someone who is a complete novice at SEO.
Who is this course not for:
Someone currently doing SEO as a job or as a side hustle, most of this stuff you can Google.
A web developer looking to learn technical SEO tactics, this course won't teach you that.
What do his students think?
An interesting course that has a lot of things in it that was helpful to me in my aim to get better at getting traffic to my site , and also to tidy up my operations.

Jackie S. – 5 / 5 stars – April 2022
A very good course if you are looking to learn how to drive more traffic to your website . There are some good ideas in the course. The women in technology section is interesting too

Fionnuala O. – 5 / 5 stars – March 2022
Verdict:
Despite the high rating and easy to consume lectures, I personally think this course falls short when it comes to being an "SEO techniques course". This course misses out on a lot of different SEO tactics and while it touches on a lot of points, doesn't provide you with enough substance to actually run your SEO campaign. If your the head of marketing strategy and your SEO knowledge is weak, this may be a good course for you to top-up on. However, stay away from this course if you know SEO or do it for a living.
Start your SEO introductory course now!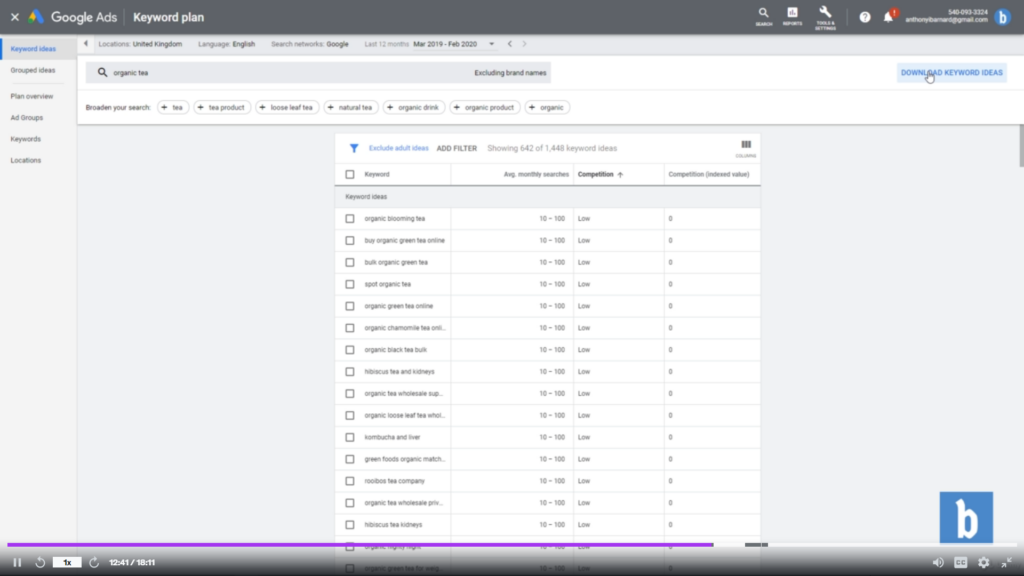 Overview:
With over 2.5 hours of info devoted to keyword research, Anthony Isaac has a variety of SEO graphic design and social media marketing courses that all aim to teach you how to create passive income. This courses is broken into three major sections:
Keyword Research
Local SEO
Everything else (Introduction, black hat and free SEO eBook).
This course could probably be done in an afternoon, and gives you an eBook at the end.
Pros:
Anthony does KW research from SEMrush, KeywordsEverywhere, Keyword Planner, Answerthepublic, Reddit Keyword research and AlsoAsks.com
Talks about how to "steal" keywords from competitors and picking every green content
Short, but good section on how to generate keyword ideas (I know this is the hardest part in keyword research, the ideation)
Very long portion on local SEO as well, how to optimize your website for local SEO, appearance, keywords, the importance of NAP (name, address, phone) and customer reviews.
Anthony offers a number of free SEO courses on Udemy as well, so you can take these courses for a test spin before you pay for them.
Cons:
I feel like the keyword research portion was missing a topic on latent semantic indexing keywords. I don't mean synonyms, I mean how to complete the neural network topic tree for a target keyword.
Anthony talks about the business listing, but misses out on so many important attributes of Google my Business (GMB). There's no mention of Google posts, optimization of services or geo-stamping of images (EXIF).
This teaches the basics of SEO keyword research and local listings, you may need to review subsequent digital marketing courses to learn how to optimize.
The course hasn't been updated in a long time.
Who is this course for:
A business owner looking to start doing some local SEO
Someone in copywriting that wants to learn how to build their skills in keyword research
A newbie in SEO who wants a short, but not badly constructed course
An SEOer who wants a few formal skills in local SEO and in keyword research, this course would have been knowledgeable for me 5 years ago
Who is this course not for:
An entrepreneur who wants to master how to do local SEO and keyword research, this course is more of a starting point
An experienced SEOer, I would say 3+ years or more of actively doing SEO with real paying clients
What do the students think of Anthony's course?
It is good course to start learning fundamentals of SEO and even build a good background about the tools and methodologies required to learn SEO>

Pushkal S. – 5 / 5 stars – August 2021
Very Simply Explained without any technical jargons. Very Easy to understand the basic concepts.

Deven KK C. – 5 / 5 stars – July 2021
Verdict:
This wasn't a bad course, and while it didn't teach me anything new, it helped me gain insight into how other SEOs may do keyword research. Ideally, I think this course is for new learners of SEO, but can be a good course for those with a few years of SEO experience under their belt. I would say this course is a buy for most, unless you're an SEO expert :). The only caveat to this is, Anthony hasn't updated his course in a while. If he decides not to update his course in the next year or so, it'll be a few years outdated, which means I would stay away!
Get started with the SEO course now!
Overview: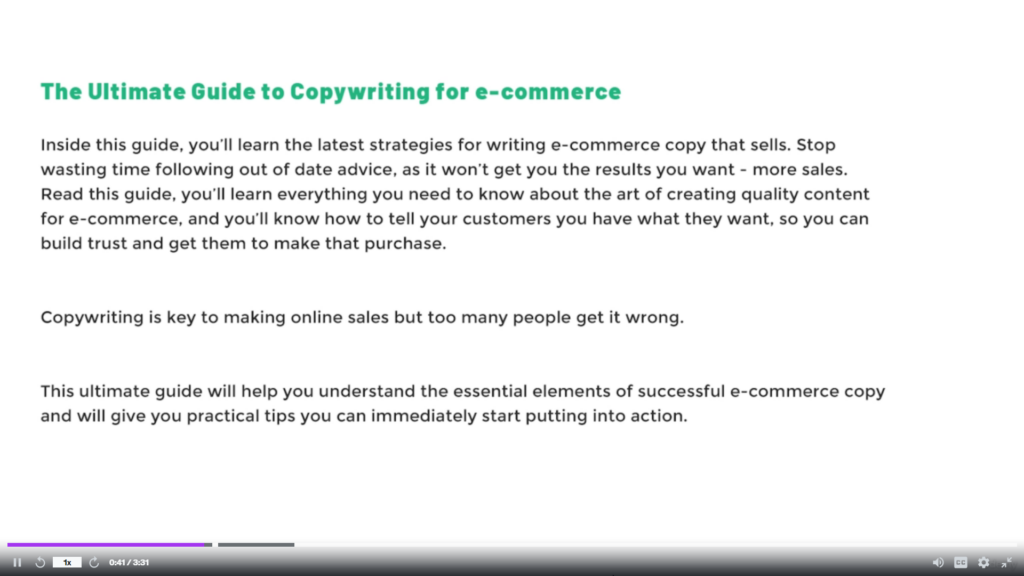 This 6 hour action packed course focuses on two general subjects:
How to build backlinks for SEO
How to do SEO (Technical, on-page and local).
The backlink portion, focuses on different link building strategies like Wikipedia link building, link outreach, broken link swaps, mentions (social media monitors) and guest blogging.
The second portion focuses on general SEO knowledge, and resembles more of an SEO bootcamp.
Pros:
A good explanation on why you need linking building and how it actually works (Site / page authority).
A few SEO link building strategies outlined, that are good for any SEO specialist to know.
Lots of focus on outreach, which is one of the strongest ways to get deeplinks for SEO
Quizzes after every chapter, to cement your learning
Cons:
I'd like to see more link building strategies brought up. There's at least ten different ones that I know, and Tomas only covered 4 of them.
The SEO bootcamp at the end is weak, and seems like it was mostly a filler.
Tomas' accent could be difficult to understand for non-native English speakers
Due to the lack of advanced strategies, most of the content in this course seems a tad fluffy.
Who is this course for:
Webmasters or business owners folks who are newer to SEO, and want to learn how to start link building
A blogger who wants to learn how link building works, but also wants to get a small SEO bootcamp as well
Who is this course not for:
Someone who has a lot of skill in SEO, or content marketing. While Tomas says this is a "Step-by-Step" course, there's a lot missing from it being a complete SEO training course.
What does Tomas' students think of his course?
Yes, it's a great course; however, I have not experienced about this field so far, so I imagine I will be able to gain this new knowledge after completing this course.

Savuth M. – 4 / 5 stars – June 2022
I love you , You have good knowledge in SEO field I am learning with local courses too but I found your course in very detailed.

Muhammad Z. – 5 / 5 stars – March 2022
Verdict:
If you're an advanced SEO like me, and you're looking for some good link building strategies, check out this course by Anand Kumar Tiwari https://www.udemy.com/course/link-building-course-2021-advanced-backlinks-building/, it's not bad and has some pretty strong strategies. However, if you need to learn SEO, and the basics of link building + a few strategies, feel free to take Tomas' course. Ultimately, I feel like this course misses it's mark when it comes to being a "link building course", and Tomas made it into more of a general SEO tutorial + link building. Coupled with his strong accent, you may regret purchasing this course.
Start building your backlinks now!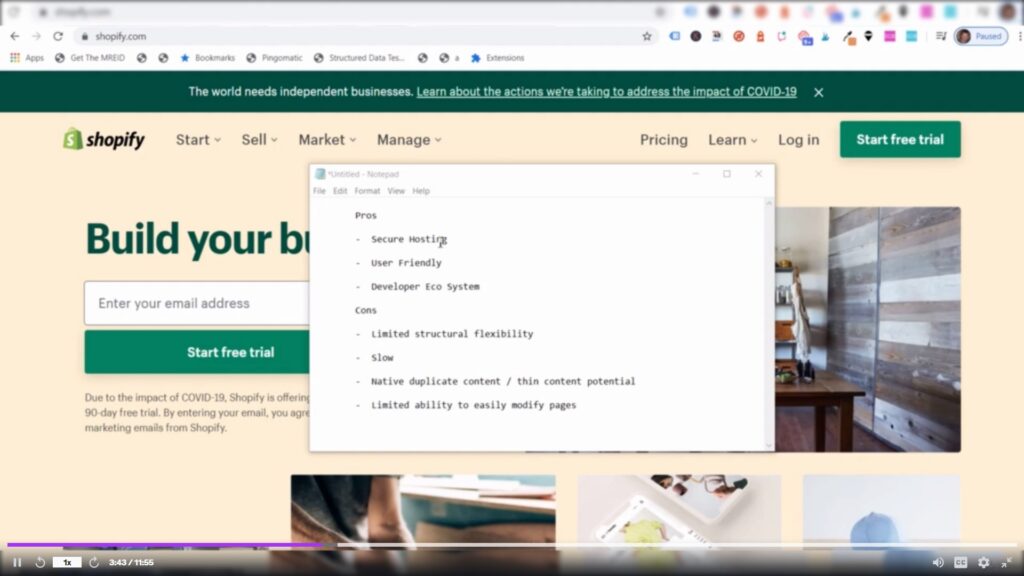 Overview:
An 8 hour Shopify eCommerce SEO course created Jono Farrington, who's company focuses primarily on SEO for Shopify websites (ShopifyX a Shopify agency based out of Australia) – this course promises to provide you with everything you need to help optimize your Shopify store and drive "free" Google traffic.This course goes through a lot of topics including:
Creation and Ideation of your store
The right tools to use for your store for SEO
Setting up tracking and Reporting
Optimizing images
Pagespeed Optimization
Schema
AMP
The course ends off with AMP, and access to ShopifyX's premium plugin which you end up getting for free when you apply to the course.
Pros:
A lot of course material and coverage on Shopify eCommerce SEO
Introduction to SEO tools like SurferSEO and keyword research tools
30% discount to Schema plus and ShopSherrif AMP
An in-depth walkthrough on Google search console and Google analytics, albeit (universal analytics)
Cons:
The course is a tad outdated, due to this Search console, GA and the SEO tools are actually badly taught. Shopify's entire UI has changed since later September 2020, so this also makes no sense as well.
The audio quality isn't the greatest in the course.
Jono references very expensive tools like AHrefs and SurferSEO to do research, there should be other lower cost courses.
Who is this course for:
Someone who wants to optimize their Shopify store for SEO and is a novice.
Who is this course not for:
What do the students think?
Excellent Shopify SEO training! I also bought the version 2 of this training, because it has the most up-to-date training. This version 1 and version 2 is probably the best Shopify SEO training course series in the world right now!

Brandon F – 5 / 5 stars – July 2022
The results was started to appear already after i followed all the steps, thank you a lot, is not in my native language and was 2x more harder to understand but in the final I got the gold from this course. Thank you!

Peia R. – 5 / 5 stars – April 2022
Verdict:
While the course has it's merits and definite positives, however the course is a little too out of date for my liking.
That being said there's some fundamental strong SEO strategies that Jon brings up, which is why people continue to take his course and give it positive reviews.
Therefore, I would avoid it even if you're trying to learn how to do eCommerce SEO, and go after one of Joshua George's courses instead. He provides updated content, plus the means to optimize not just content websites, but also eCommerce stores as well.
Build your own eCommerce Shopify store now!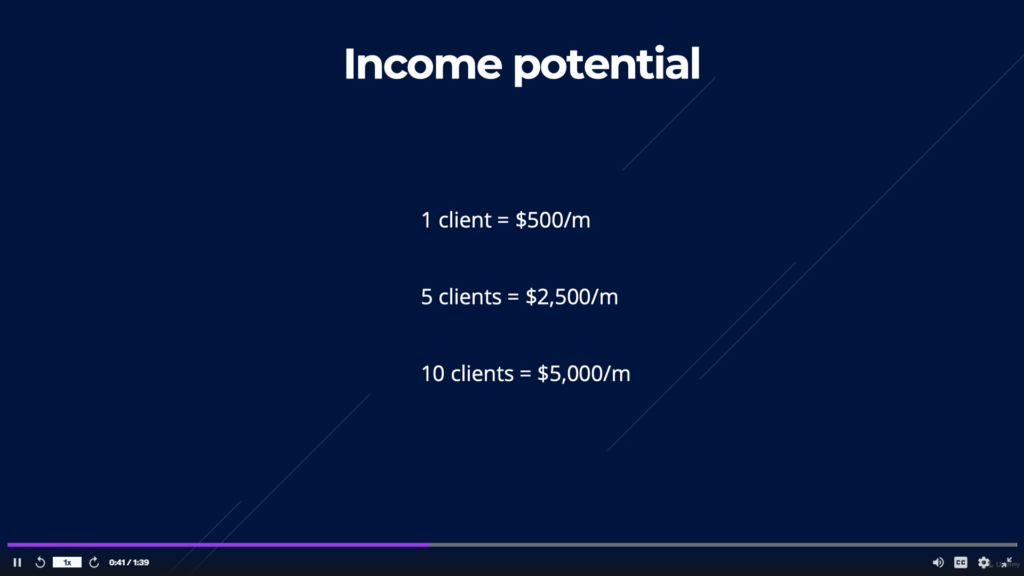 Overview:
Another Joshua George course centered around how to build your own SEO agency, in 4 hours – agency owner Joshua George explains the inner workings providing SEO as a service. The course centers around:
What to do if you have no SEO experience (basically learn SEO)
How to market SEO business with a website (for your SEO agency)
Knowing SEO deliverables (Local vs. National) + Joshua's own Gantt chart on how to succeed for SEO
Strategies to get clients (how to audit websites)
How to price your services
Closing Deals and Reporting, Retention / Scaling your business.
Pros:
Great top-to-bottom online marketing course, Joshua truly tries to give you an understanding on how to run your SEO skills as a business.
I love that Joshua teaches to focus on conversions instead of driving traffic. Driving traffic to a website isn't hard, driving traffic that converts is much more difficult.
The pricing tips were also good as well, Joshua focuses on analyzing your clients ROI and scaling your pricing off that.
Cons:
It would have liked to see more technical SEO like page optimizations for web vitals.
This course is only focused on Google SEO, not Amazon A9 algorithm or any other types of SERPs.
A little short for a course, Joshua could have beefed it up.
What do the students think of the course?
This is the second course I have taken with Josh and have rated both 5 stars. Like the first course his teaching style is very clear, he gives valuable information and answers questions promptly. Would highly recommend.

David B. – 5 / 5 stars – April 2022
One of the best and possibly the best course I have gone through about owning an SEO Agency. Joshua is a great teacher who explains the process in great detail. You want be disappointed.

Didier T. – 5 / 5 stars – May 2022
Verdict:
Overall, great course! Joshua has a strong SEO pedigree and clearly runs a successful business. He's laid out the preliminary elements needed to succeed as an entry-sized SEO company. As of right now, I would consider myself a small SEO agency (I have ~10 clients I support on a monthly basis), and I still learned a few good ideas from Joshua. Therefore, I would say that anyone who is looking to learn how to run an SEO agency, should pick up this course. It'll give you a few tips, and it only cost you the price of a cheap lunch. You won't be able to find an online course that's this cheap and provides you this much knowledge.
Build your own SEO agency / consultancy now!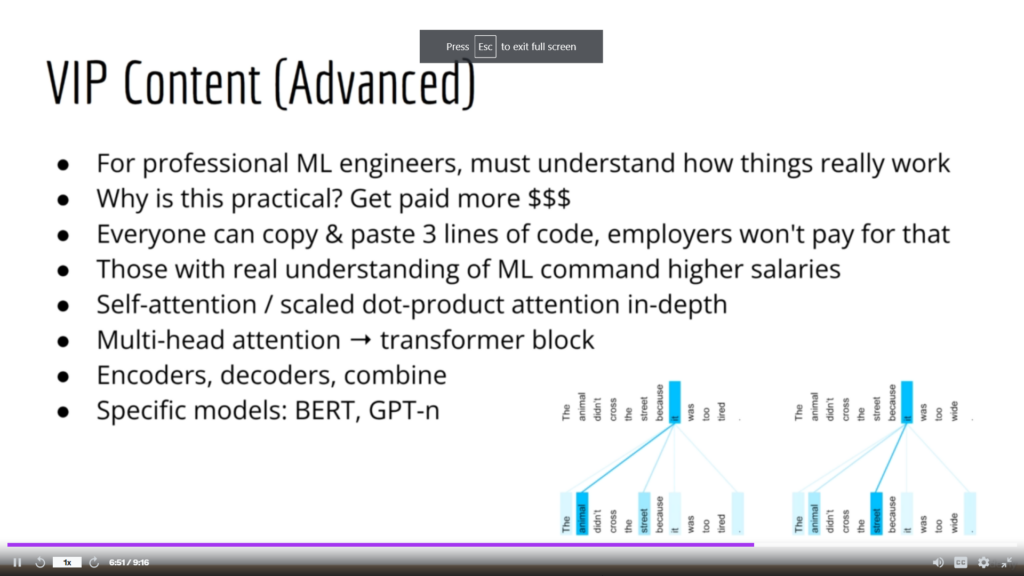 Overview:
This course is focuses purely on trying to help you learn how natural language processing works and how you can build your own article spinner and neural machine translator. The course recommends that you have a beginner to intermediate level of Python programming skills, and an expert level of content convolutional neural network (CNNs) and recurrent neural network (RNNs). CNNs are better for image recognition, classification and analysis and RNNs are better for text translation and NLP overall.
Some of the things that the course will look at are:
Named Entity Recognition (NER)
Text Generation
Zero-shot Classification
Model and Tokenizers
Transfer learning & Fine-tuning
POS Tagging
Attention Theory
Seq2Seq
Machine learning FAQs.
Pros:
Comprehensive course (12.5 hours), which covers a lot of different NLP and BERT techniques
The article spinner seems like a great tool for an SEO person to build, you get to generate pretty believable text.
This course focuses on the technical aspects on how NLP works. This provides good insights on how to structure articles, and how the Google algorithm could function.
Lazy Programmer Team are a very skilled group of ML engineers who live and breath this stuff.
Regularly updated, and the author is very active in comments and updates.
Cons:
No tests, quizzes or assignments, so highly theoretical
This is a highly complex course, definitely not for beginners. I would consider myself a beginner'ish Python user, and this course touches on both Tensorflow and PyTorch module, both not meant for beginners.
Due to the skill of the course instructor, they can come off a tad condescending.
What do the students of the course think?
I like that you are sticking with your values and weeding out students who aren't genuinely interested in learning. I would like to see maybe a discord community or a social form where I can work with other students.

Royce Leon D.- 5 / 5 stars – August 2022
It's a great course, I'm learning a lot. One thing, however. The guy's kind of condescending. "I believe you can figure it out" makes it sound like "you're stupid if you can't"

Shaun C. – 5 / 5 stars – August 2022
Verdict:
This course is probably the most technically tough SEO Udemy course on this list. It's not looking at how to generate organic traffic, or how WordPress websites can use Yoast SEO to rank well, it gets to the nuts and bolts of how natural language processing works, which runs Google and most search engines. If you're a strong Python programmer, and you just happen to do SEO as well (or vice versa), consider picking up this course to help build a stronger understanding on how Google actually works.
Understand how search experiences like Google work now!
Conclusion:
I hope this article helps you learn a few things on how to optimize a web page for Google. While there are many different types of organic searches, almost all of these courses are geared towards optimizing for search engines like Google and Bing. Ultimately, you don't really need an SEO Certification to prove you're good at SEO. Your track record on ranking websites, and growing businesses will give you what you need to excel in your career. What these courses I've added to this list can do, is build our your skillset and make you think about gaps you may have in your toolkit. I hope this article helps you in your SEO growth strategy, leave a comment if you have any questions!