Publish Date - April 30th, 2023
|
Last Modified - September 4th, 2023
Are you looking for a no BS review of the PMP certification exam, with someone who's written and recently and passed Above target in all categories on their first attempt? Look no further, because in this PMP review article, I will outline a path for you to pass the PMP without paying thousands of dollars for "professional" PMP training.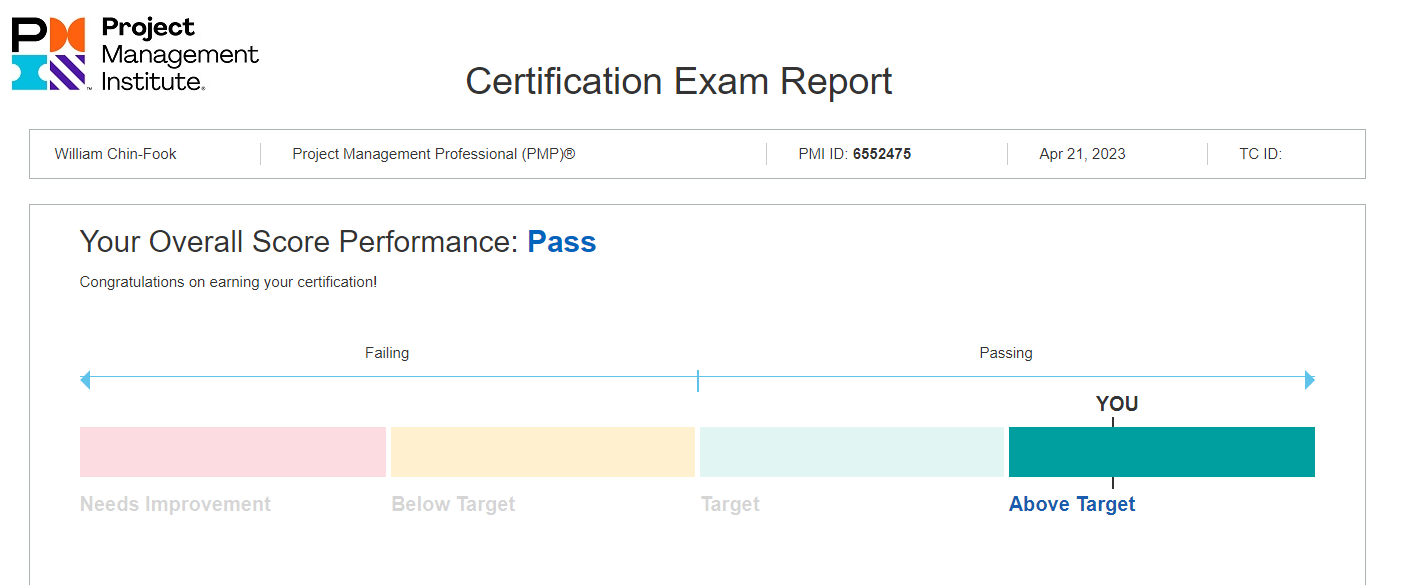 I passed my exam in April 2023 with Above Target in all categories (People, Process and Business environment). Below is my journey from getting my contact hours with Udemy and creating my application to take the exam at home, to studying for the exam and passing it.
You can also view my LinkedIN and / or look me up in the project management institute exam registry (leave the country dropdown blank) and search for my name "William Chin-Fook".

Since the project management body of knowledge (PMBOK) is most recently in it's 7th edition, the structure of the exam have changed greatly. This has more or less made taking the PMP and even the CAPM exams since late 2021 due to the new new structure of the PMBOK, and the injection of agile into many of the questions.
Coupon for my PMP practice exams
As I was trying to study, I realized there's a lack of quality PMP practice exams. This is why on Udemy, based on my real life experience and the PMP / PMI-ACP, I've created my very own PMP practice exam courses on Udemy. Feel free to click through and use the related coupon!
Try out my PMP practice exam now!
Here's the table of contents, feel free to click right to my study strategy first:
I did not pay for any PMP bootcamps or any type of instructor-led courses because of past experiences with the PMI and the need for my learning to be self-paced.
The purpose of this article, is to help other learners like me pass the project management institute's PMP exam above target on all categories at a cost effective means of exam preparation meaning no fancy $1000 USD courses.
Prerequisites and application to take the exam
This is a professional certification, with the application requiring quite of bit project management experience and contact hours / PDUs (PDUs since they can be used with other PMI certifications). Eligibility for the exam requires you to have the following so that you can even write the exam:
Four-Year Degree
36 months of experience leading projects within the past eight years
35 hours of project management education/training or Certified associate in project management (CAPM®) certification (PDUs / contact hours)
OR; you can have:
High School Diploma or Associates Degree
60 months of experience leading projects within the past eight years
35 hours of project management education/training or CAPM® certification
Going through each of these, here's what I had.
Four-Year Degree (from Western University (college in Canada))
36 months of experience leading projects within the past eight years (A variety of projects I've ran, mostly digital agile development)
35 hours of project management education/training or Certified associate in project management (CAPM®) certification (PDUs / contact hours)
Udemy PMP courses for contact hours
Ultimately, you can get your required contact hours anywhere – because you'll only truly pass if you study, study, study. I put 100+ hours of studying with hundreds of cue cards and dozens of graph papers for different charts, "methods" and mind-maps.
You can use a variety of places to learn and collect your PDUs; some top ones are:
Rita Mulachay's classes
Bootcamps like Simpliilean, PMI exam preparation (Study hall) or even places like knowledgehut.com
With the former two being cheaper, and this article about saving money, I will refrain from calling out the latter type of bootcamps, because they are way to expensive for my taste.
Ultimately, I did my 35 contact hours on a Udemy approved course by Joseph Phillips. I have a whole Udemy PMP review article, which outlines courses that can help you on your journey. While this course was pretty long (~15 – 20 hours), it helped ground my knowledge of agile and PMBOK 6 (which this exam is based on).
The application and exam fee
When you write your application, you'll want to remember the following things:
Projects you ran, the position you were in and the value you delivered.
The size of the projects and how many resources you were coordinating (whether that's people, resources or machines).
What was the final outcome.
The PMP exam costs $405 for members of PMI and $555 for non-members. In many companies, employees are offered the opportunity to earn professional certifications and education benefits. My company TELUS (a major telecommunications company in Canada) paid my fee upfront.
Pro-tip: Having your company pay the fee is a good incentive for you to pass. You don't want to be "that person" who asked to have a certification compensated for and then fail. While some companies will make you pay the $$$ back if you fail (or only reimburse you if you pass), most won't. I didn't want to fail my team and not get the certification, so that motivated me to study aggressively and early on. The exam content is long and if you don't want to spend thousands of dollars, it takes time to build your own study guide.
Once you've submitted the application, it make take sometime for them to reply. There's the chance that you may get audited (which means you will need to provide information on projects you ran and references as well). I've personally never had that happen, but here are some examples of the experience:
Looking at a number of the experiences folks have gone through it looks like some of the common mistakes for PMI auditing the application OR someone failing the audit are:
Poor title management (Calling themselves a Project manager, when they're really something else).
Weak descriptions of projects and the aforementioned outcomes / how you "lead the project".
Not actually being a project manager.
Projects were way too small to be considered actual projects.
Based off my studying and logically, a project needs to have multiple constraints (schedule, cost, scope), have the management of resources (people, material and machines) and delivery value. If you're not controlling, managing or coordinating those things, you're probably not a project manager.
If you don't get audited, and your application is approved – you'll need to pay for your exam and schedule.
Pro-tip: Give yourself at least three months to study for the exam if you've never done any type of PMI exams before. There's roughly 10 books that the PMI draws the exam from. While you don't need to read all 10 books, you could see questions from those 10.
On the flip side, don't book your exam too far out (like me) – as I booked my a year out but only started studying 3 months before my exam.
PMBOK guide 7
Once your application is approved and you've paid your fee, your first place to start could be the PMBOK guide 7. The PMBOK 7 at it's full-length has a broad level of knowledge accumulated from those 10 books. It took me about a week to two weeks to get through the PMBOK 7 because it is so boring.
See the PMBOK 7 as a manual instead of a source to study from. It calls upon general project management practices that are gathered from the previous PMBOKs but also layers in some new concepts that are a combination of agile and hybrid practices. Some of the new things I noticed are:
Understanding agile practices and hybrid practices (more particularly scrum and XP) and how they can play a part in a more "predictive" project environment.
The focus on "people", "process" and "environment" vs. ITTOs and just phases of a project. The PMBOK also emphasizes more "agile" concepts of servant leadership and being a leader vs. a manager. This is a contrast from the command and control of previous PMBOKs. By environment, I mean business environment and understanding the political governance within an organization.
Knowing how you can drive value and the cost of change / quality. Projects are obviously meant to drive value (whether that's reduce costs or increase revenue / awareness), the PMBOK 7 tries to drive this deep.
Overall, I regret making in-depth notes about the PMBOK 7 because it could have been better utilized studying other material, or taking more practice exams. Use the PMBOK 7 as a guide to help you pass the exam, and a manual if you get practice questions wrong – but don't have it be the only thing you study.
My PMP exam prep study strategy
Having a strong study strategy is crucial to passing the exam. I doubt there's anyone in the world (except an AI like ChatGPT), that can pass this exam without studying. Everyone's studying methodology will be different, due to their past experiences and the way that they retain knowledge.
The only thing that needs to be recognized is; memorizing the concepts won't do you any good, so it's not advantageous to create a ton of study materials from a tutorial or training course, and then try to memorize everything. It's best to understand the concepts, create flowcharts or even look at some mock project data to see how everything is interconnected.
Firstly, find high quality practice exam and questions – there are tons of places that have exam practice questions, but many of them are low quality or don't provide a quality explanation. After days of Googling, I remembered that I had used PM prepcast for my PMI-ACP and figured it was worth it to give it a shot. This tool is probably the main reason I passed the exam.
These are the tools I used to truly study for the PMP and pass with above target on all three categories:
If you can only buy one thing on my list, buy Cornelius' tools. He has a number of training courses to get your PDUs and contact hours, and also workbooks and access to other training material that will most definitely help you pass the exam.
Costs vary, with the 6 month PMP test bank costing ~70 – 100 USD, and courses as high as $325 USD. This is insignificant compared to some of the PMP bootcamps. Although, PM prepcast's tool is a subscription plan and will expire.
It comes with four full practices exams (720 questions), time trials and warm-ups.
The Exam simulator is probably one of the most realistic (even better than PMI study hall), when compared to PearsonVue's quiz emulator. There are thousands of questions which are structured very similar to the way the PMP will ask you questions.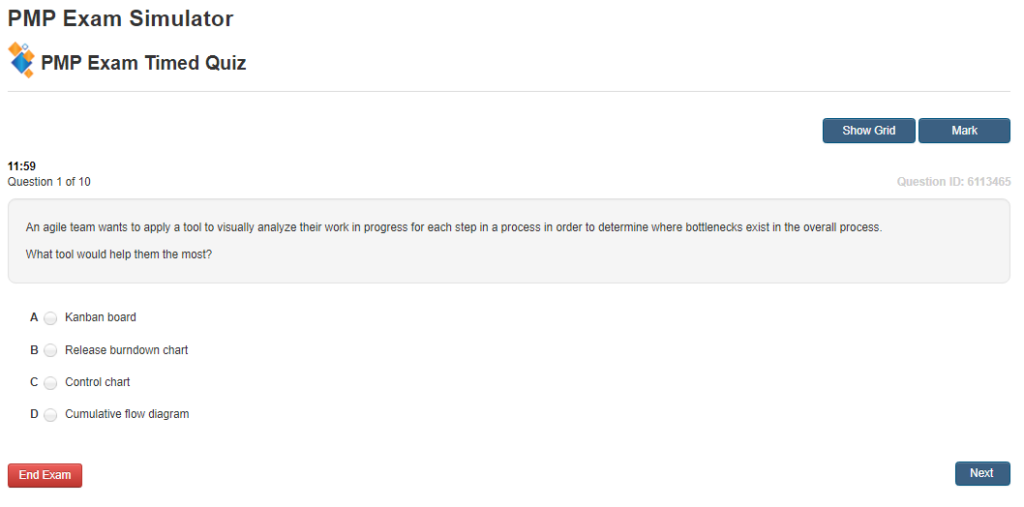 Questions are less, "True" and "False" and more "If you're put in this situation and there are these other constraints placed on you, what is the best outcome from the list below"?
His exams are also timed like the PMP, so you get a feel for how a 4 hour exam with 180 multiple choice questions feel.
At the end of every test, you'll find out if you passed or not (similar to the PMP) and then you will subsequently be able to see what pillars you did poorly on, and be able to see the rationale on why you chose the wrong answer.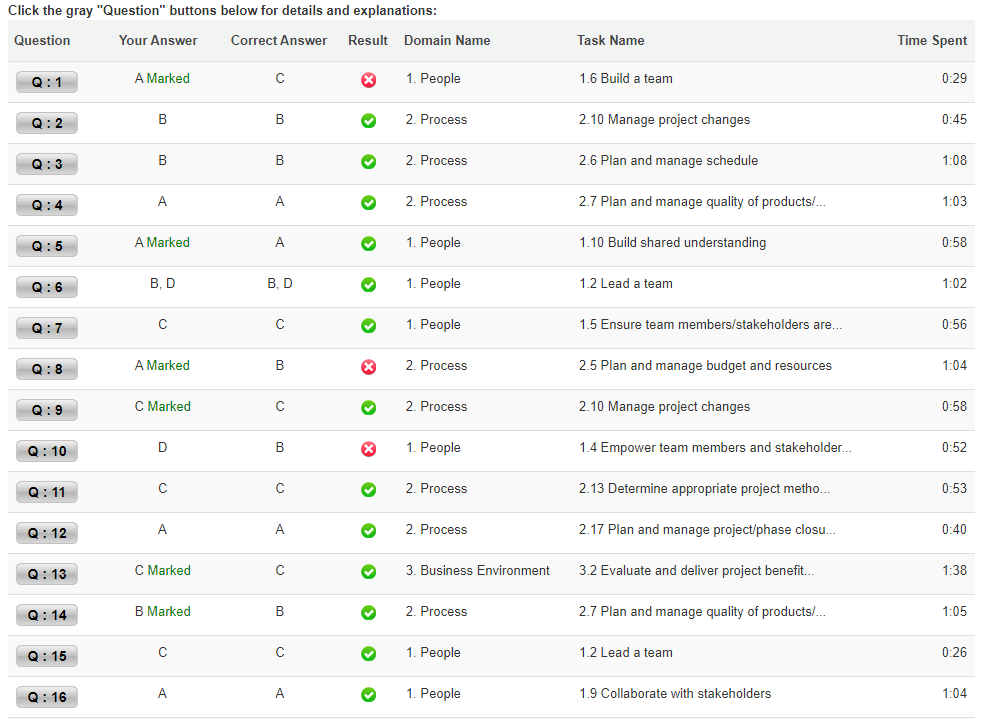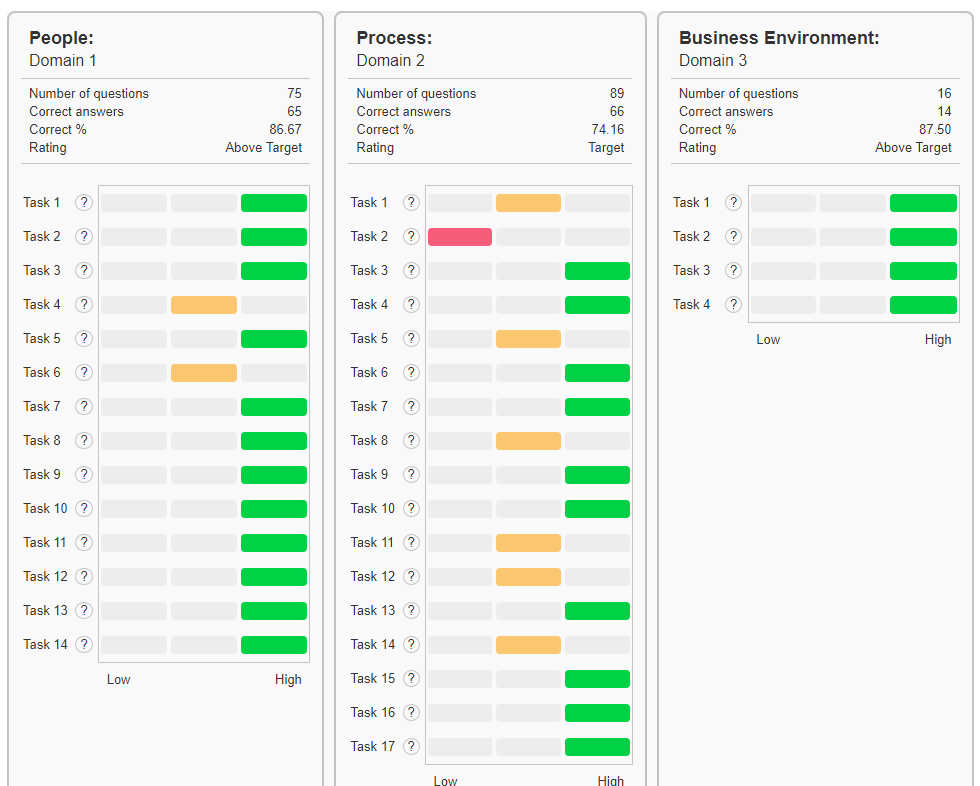 Pro-tip: Every question I got wrong, I took a note of the concept or something I didn't understand in the question (like a particular model or process) and made sure I reviewed the whole concept again. This made sure I had less gaps in my knowledge areas when taking the real exam.
The questions don't exclusively test one knowledge area or another. You may need to understand procurement, cost management and stakeholder engagement together – because you're handling a cost overrun with a vendor, but you also need to let stakeholders know of that impact.
Aside from that, there are a lot of methodology + Business environment (Hybrid vs. Agile vs. Traditional) questions, and what the "most right choice" is from the answers given.
Pro-tip: Just like the real exam, usually each question can have 2 – 3 right answers, which is the beauty of this testing tool. It trains your mind to critically analyze each question and then subsequently cross it off the list until you have one or two choices left. This is how you should tackle the real PMP.
Summarily, without using my own notes or Google to do these practice exams, I never scored over 81% on them.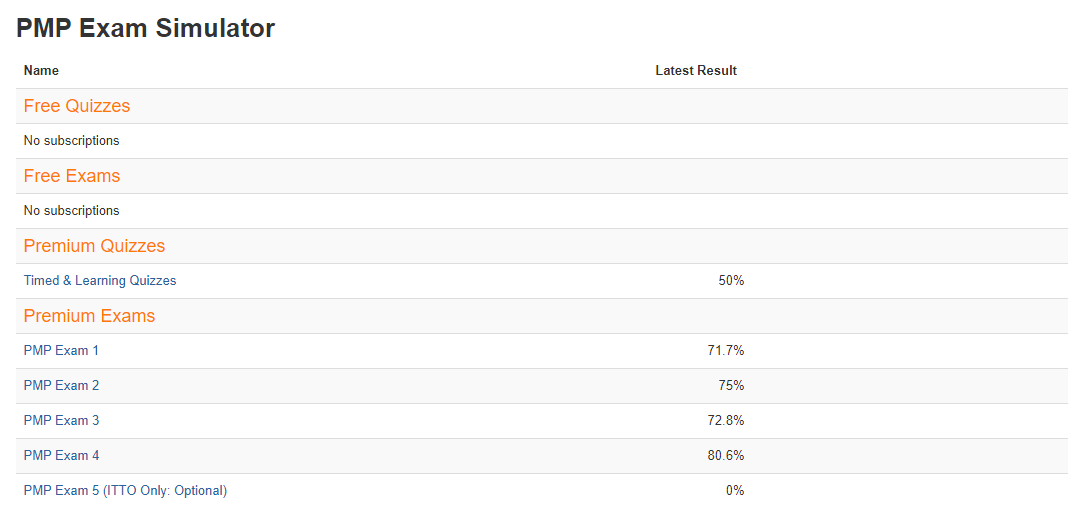 Which is interesting, because it felt like I ultimately scored higher on the real PMP than on these practice exams.
If you plan on taking your PMP, make sure you pick up this course because it will most definitely help you pass the PMP on your first attempt.
Here's a link to their eCommerce store, feel free to browse their tools and products!
2. PMI Study Hall
This is similarly priced to Cornelius' practice exams, but it has a different feel than the questions provided in PM prepcast's bank.
Costs aren't bad, with pricing $59 – $100 (it's a subscription plan).
PMI study hall has a full set of tutorials to study for the PMP, two full practice exams and almost 1000 practice questions. While they helped me prepare, I felt there were a number of issues with study hall's questions:
The questions and where they draw the knowledge from.
The difficulty of the questions
The responses, regardless of you getting the answer right or wrong
The material from study hall isn't bad, but it's mixed in with videos from random project managers that are hard to understand sometimes.
1) I noticed a lot of questions from the PMBOK 6th edition. This was annoying, since I never read the 6th edition and there's a drastic change between the 6th edition and 7th edition. There were also questions that were extremely old referencing documentation from 2004 :|. This can make you feel unprepared and break any momentum and confidence you've gained with prepcast or other training simulators.
2) This is a blessing and a course at the same time. Some of the questions are extremely hard, with every answer being correct to some degree and you needing to know each concept thoroughly. While this is good training, it also sets you up for failure because I don't remember one question on the exam being that difficult.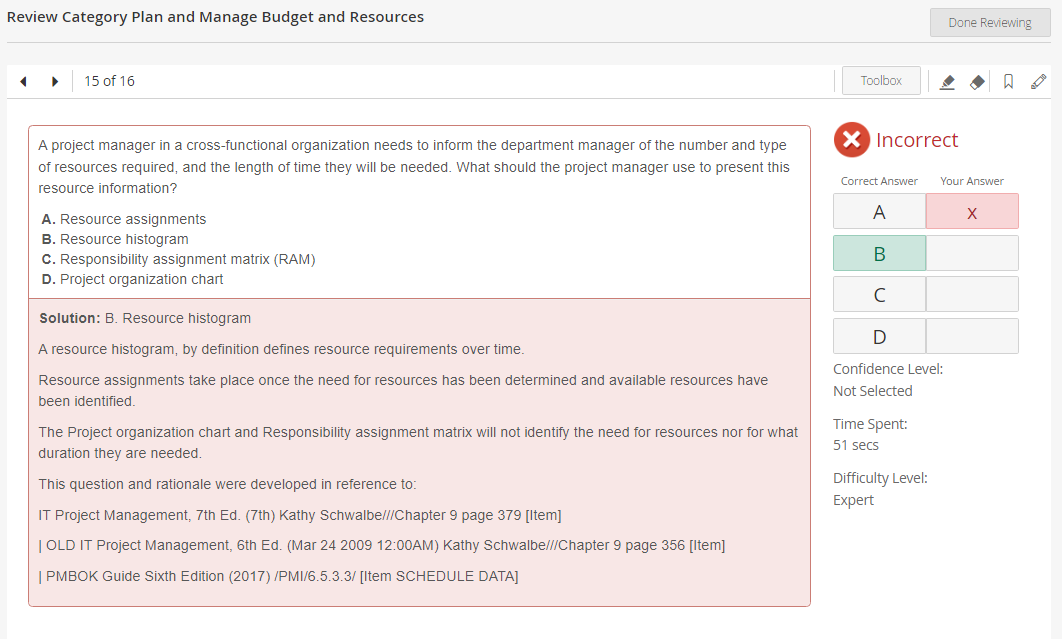 For example; look at the question above. Each of the answers could technically be correct except (D), which is obviously wrong. B, while it makes the most sense because duration (length of time) is what's needed, you need to know all the aspects of each of those 4 resource management methods and tools to know duration is only on histogram.
3) The responses are sometimes good enough to explain issues, but most of the time they're vague and the links do not work.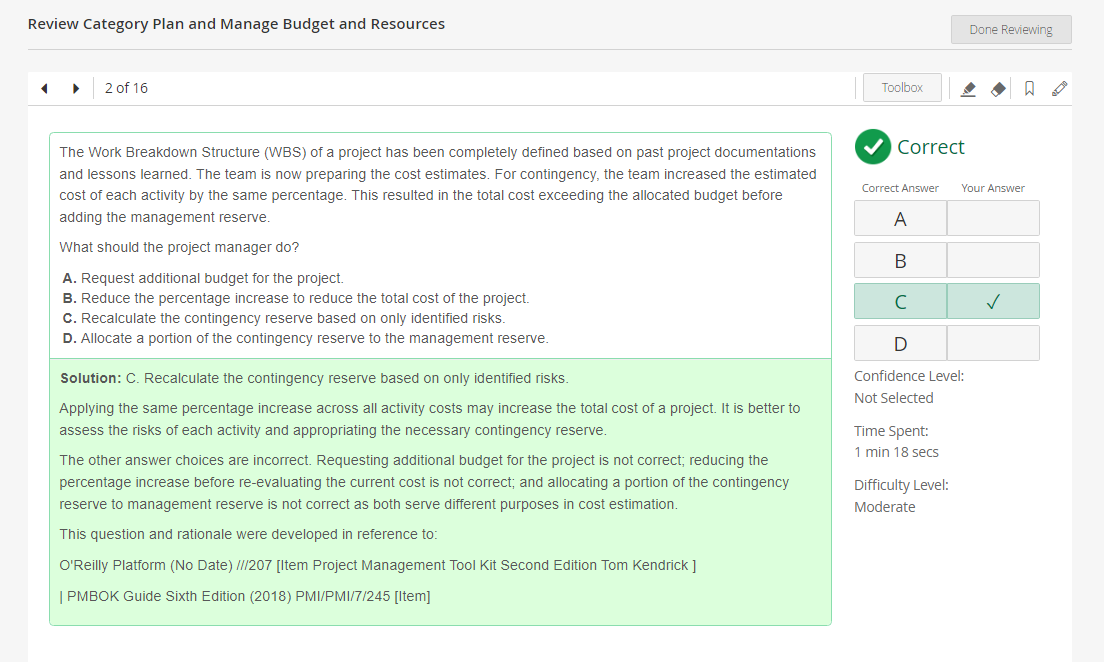 The response here isn't terrible, but it also just gives you the rationale on why the answer is right – not the documentation behind it. If you try referencing those documents or loading those links, the documents don't do a good job explaining the issue, and the links mostly broken.
Overall, study hall is a good supplementary to something like prepcast and can give you a lot of practice questions (and two extra practice exams). I never did all of the questions or either of the exams because prepcast was good enough for my needs. The questions are rigorous and prepare to see some failing grades to "On target" (65% – 75%). If you are dominating these questions then you shouldn't have a problem with the real exam. This is without notes or study aids :).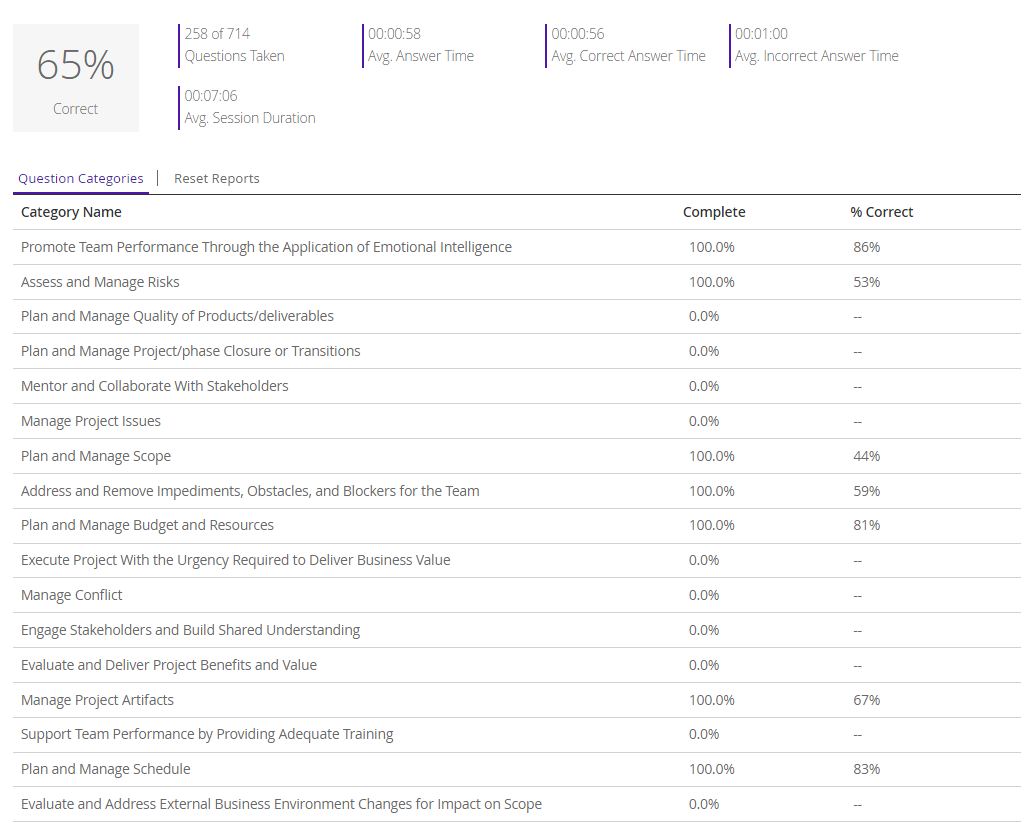 I averaged about 65% for questions, which is in the 75th percentile (and scored an ~85% on the exam).
3. Rita mulcahy's PMP prep course and training book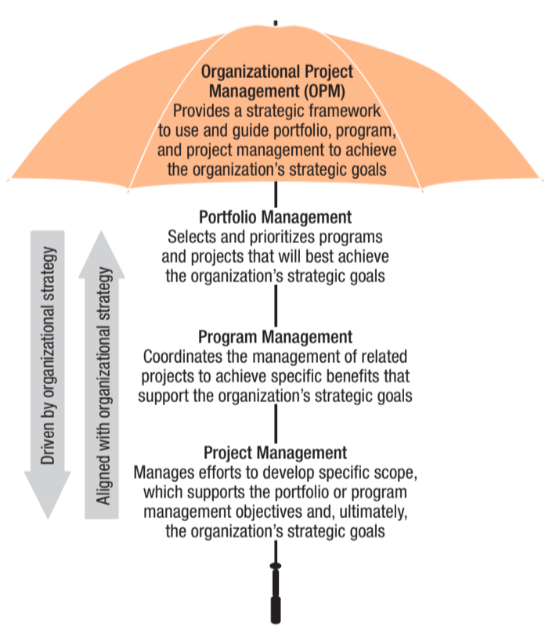 This is where you should draw your knowledge from. Rita's team has looked at all 10 of those books on the reference list and provided a kick ass 500 – 600 page book that summarizes all of the details. It gives an impressive breakdown of the process groups and their relevant tasks + how they relate to the processes (Risk, cost, resource, quality, schedule, scope, procurement, communication) and what artifacts are in each of them.
Here are the highlights of Rita's book and why you should buy it:
In-depth analysis of each process group and how it relates to project management
A summary of each chapter, with sometimes very challenging questions built to have you understand the concepts.
Tips and tricks throughout the book to help you pass the PMP
Graphs, charts and other things to have you understand how everything flows together
Domain knowledge from other project managers who have passed or failed the exam to give you a real world understanding of the info.

Some cons:
It was a little weak on the agile front, they could have done a better job explaining this (they wrote a book on it for the PMI-ACP)
The chapter quiz questions suck in my opinion, they're meant to confuse and disorientate you and test your domain knowledge.
You can't copy and paste :|, so you need to take notes by typing.
Here are some examples of graphs and charts from the textbook: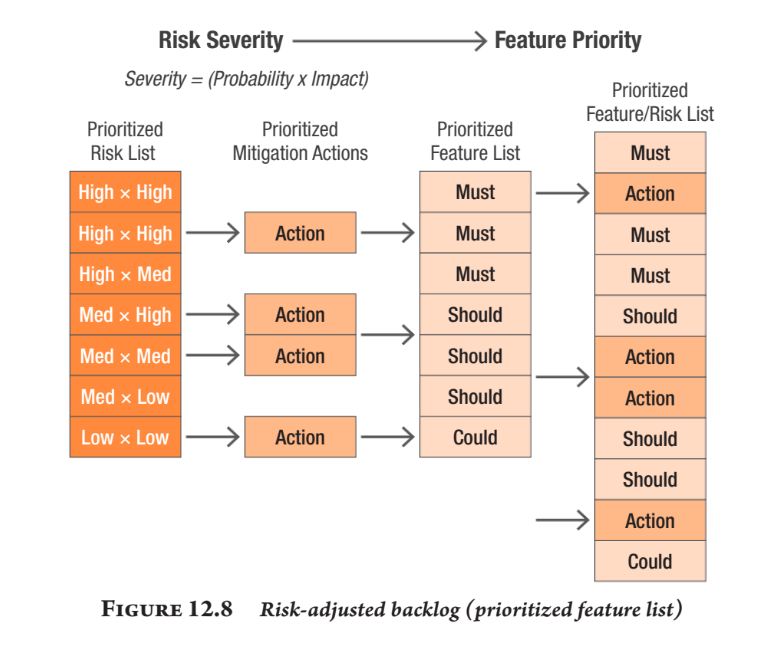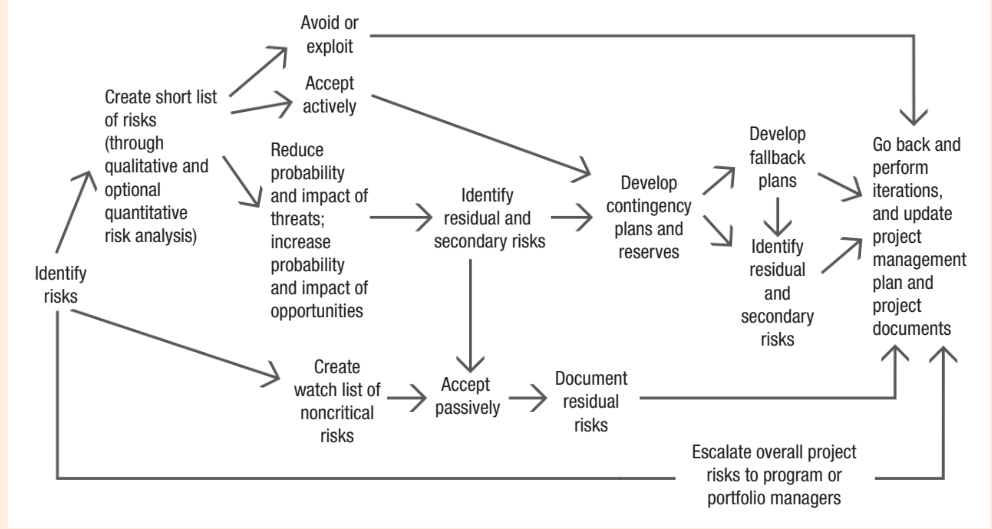 RMCLS (the owner of this book) also have a number of other courses and tools you can use, but honestly this is all you need 🙂 (the other stuff can get pricey). This book is a SaaS subscription and will also run you ~$79 USD for 6 months of usage.
4. The PMI-ACP
The PMI-ACP is the pure agile equivalent of the PMP, where PMs look to showcase their agile skills by doing a similar, yet not as difficult exam as the PMP. I received my PMI-ACP in 2020, and wrote subsequent PMI-ACP review article similar to this one.
The reason that it's in this list is, I had my PMI-ACP notes which had tons of information on agile and the related methodologies. There was a lot of scrum questions on my exam (both for the PMP and ACP), which I was heartedly prepared for because I help manage a scrum team for my day job, and also have my ACP (so I've memorized scrum rituals, artifacts and terminology). While you may not see a "Being agile vs. Doing agile" question on your exam, you may see things like:
Situations where you need to know the role of the product owner vs. project manager (who's responsibility is prioritization or cancelling the sprint)
XP and Scrum rituals and tactics to help breed team empowerment and a self-organizing team
How to do proper servant leadership in a team
How to transition a team from predictive to hybrid
How to run a hybrid team.
The ACP gave me a foundational understanding of agile which allowed me to focus on hybrid conversions and predictive processes / the process groups and phases of a project in predictive.
Lead-up to exam day
For roughly two months straight (with some off days to exercise, spend time with the family and play Diablo IV beta 😉 ), I studied the PMBOK 7, Rita's textbook, watched YouTube videos on things like Network diagramming (which I saw no questions on) and memorized equations and charts for later usage.
Due to my background in agile, I reviewed my notes and also had an understanding on SAFe enterprise framework due to it's prevalence in the industry.
I had this strategy when studying during the week:
Create a foundational knowledge base of notes focusing on process groups and phases, tools and methods used in those phases and artifacts.
Creation of graph charts for tools, artifacts and methods – where and when you should use them and their pros and cons (For example, knowing that you shouldn't use a Fixed Price work package contract for procurement unless your scope is well defined could be a question on the exam).
Every other day, I did mini tests to cement my knowledge with prep-cast or PMI study hall, which showed where I was weak in my studying and allowed me to supplement any gaps into my notes.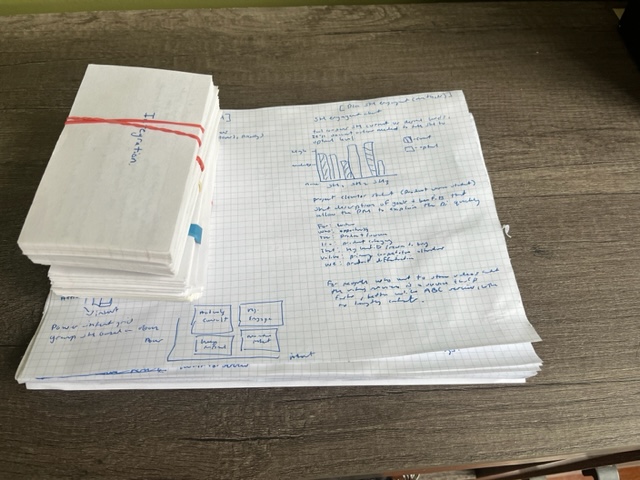 On the weekend leading up to the exam I would:
Do one practice exam in the morning (Saturday and Sunday, I booked my exam at April 21st 9:00 AM ET), and then review the questions I got wrong and supplement my notes.
Study for the remainder of the day by reading over my notes and watching videos.
If you haven't noticed, just like an assumption log, or issues log – as I did practice questions and exams – if there were gaps I would make a note of them at the end of those questions and exams, and subsequently augment my notes. This allowed me to progressively get better and better at taking the exams and answering questions more accurately.
I barely studied the day before, just reviewed my notes lightly and did 20 practice questions the night before. Just like an athlete, there's nothing really you can learn or gain the night before a match – so it's better to go into the exam with a clear mind that's rested (instead of cramming).
Exam day
My exam was at 9:00 AM ET April 21st because I had practiced my exams for the following 5 or so weekends at this time.
My exam was virtual with PearsonVue and I had to clear my desk and cover anything in my room to ensure that cheating could not be done (PearsonVue does a great job of facilitating with the proctors and the exam walkthrough).
Pro-tip: Do a few practice questions on Prepcast or PMI study hall to get your brain ready. This exam is long, and you will likely be mentally drained before the end of it. I did 8 and scored a 7 / 8 which is oddly similar to my exam number :).
During the exam
For the virtual exam, there's two breaks (one at 60 questions and another at 120) and you are not allowed to go back to those exam questions after. The hardest part for me was keeping my bladder under control (I'm a pretty heavy coffee drinker) and keeping a good pace with the questions with the remaining time.
The exam questions themselves are similar to prepcast and PMI study hall, so read them slowly (twice) and then read each answer thoroughly. Eliminate answers if they make no sense and then with the remaining answers, try your best to figure out why they may be wrong or right.
Pro-tip: By "right answer", I mean the one that the PMI documentation would deem the most appropriate. Chances are, you have project management experience and may have biases or things you do which you may "think" is the best, but it's not in the eyes of the PMI.
Be mindful of the clock as spending 2 – 3 minutes on one question will put you behind in 4 – 5 other questions.
I finished my exam with 38 seconds left, so you can see how close to the wire I cut it. This goes without saying, but do not leave any question blank – this is a multiple choice exam..
But then I saw that I passed! And a few days later, this was dropped in my email: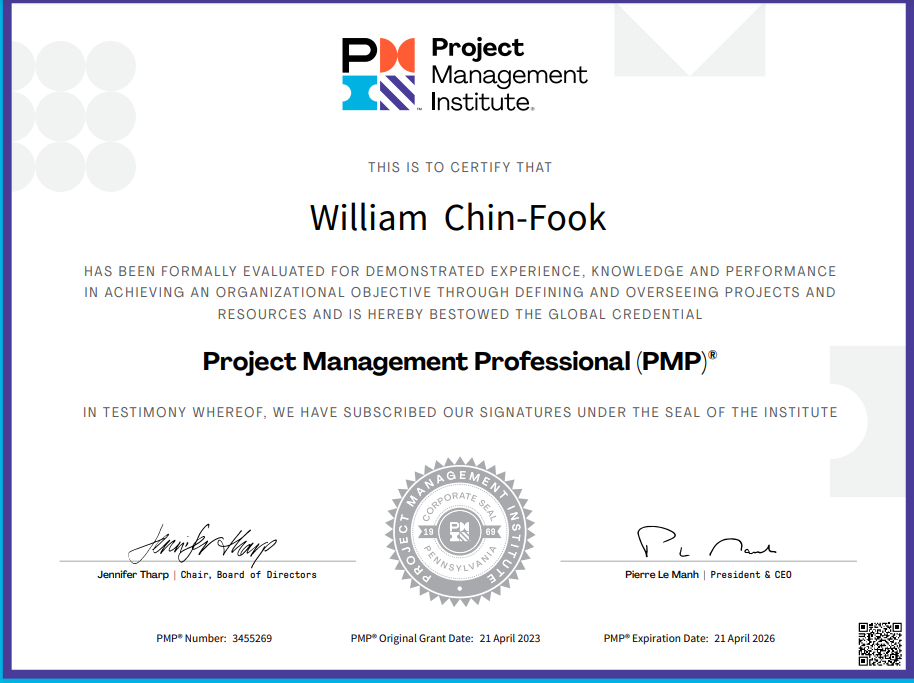 Post mortem on the exam / retrospective / Lessons learned
What went well and what I liked that I did:
It was a good idea to go over the process groups and memorize how the groups map to each phase. For example; Rita's book does a good job in breaking that down (see the graph below for Stakeholder engagement). Knowing that you do Stakeholder identification in initiating phase can help you understand and eliminate questions relating to this concept.
Prep-cast was a great tool, that helped me truly understand the structure of questions.
Creating and drawing the graphs and adding notes to each of them really helped me understand how they can be used. I also created mock stakeholder registers, risk registers and made a list on how EEFs and OPAs are used throughout a project.
My obsession on how to create the schedule, scope and cost baseline. The performance baseline is an important part of work performance reporting / data / information.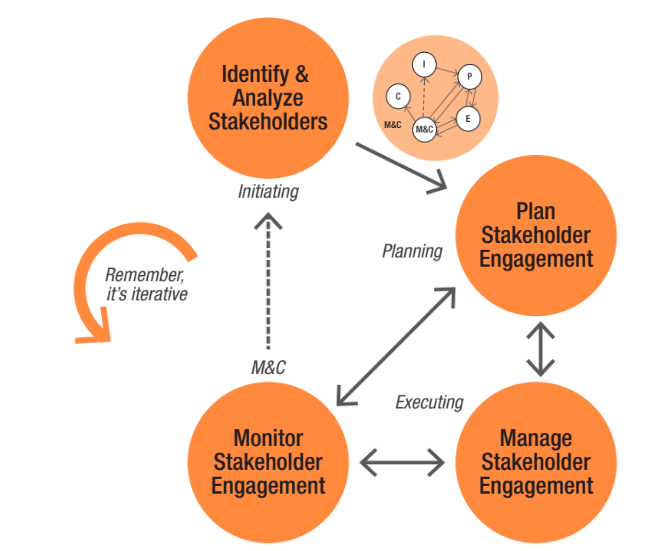 What I didn't like or could have improved on:
Firstly, comparing the looking at the PMI-ACP vs. PMP, I finished with way more time on the ACP, whereas the PMP was much more rigorous in all aspects.
I would have spent more time understanding hybrid and how to transition from predictive to hybrid and then to agile.
I should have spent less time memorizing formulas as I only saw two questions on the exam that were related to project management accounting.
I should have written my exam at 10:00 AM instead of 9:00 AM due to bowel movements and bathroom habits.
Tips for the PMP exam
Here are some of the tips for the exam (I've dropped a few throughout the article, but will summarize them here):
Give yourself time to set-up a good study plan for exam, that's self-paced and has goals / milestones. (Finish reviewing PMBOK, finish one practice exam every weekend). Just like a project, breaking your study plan into phases can really make it easier.
When doing practice questions or exams, review why you got concepts wrong and add them to your "study log"
Do your practice exams when you would actually take the real exam.
Try different practice exams / questions from different providers, this is so you can pull in different styles of questions and information.
Book the exam in a comfortable time period for yourself, and study where you may take the exam (appropriate environment).
Do not study a day or a few hours before the exam, you won't be able to cram – you want to go in with a clear mind.
Do some practice questions before the exam to warm-up your brain.
When you pass, make sure that you celebrate – because you achieved something that others tried to and could not do.
My unadulterated opinion of the PMP exam
Overall, my opinion of the PMP exam is that while difficult, it's definitely passable with the proper amount of studying. I don't know how the old PMP exams were, but the subject knowledge on my exam seemed a tad limited, and definitely concentrated on situational questions and how to deal with risk, other team members and deviation of the baseline.
While this exam was definitely harder than the PMI-ACP, it was a different kind of hard. These 4 hour exams are quite taxing on the mind, whereas the ACP was only 3 hours.
I wrote the CFA level 1 a few years ago, and vowed I would never write a massive in-person exam again. Writing remote is much more comfortable and provides you the ability of comfort and concentration, so it's great that the PMI allows this. Consider doing this instead of going into one of the testing centers.
Conclusion
I hope this article helps you and that you can pass the PMP as well and gain a credential that's recognized across the world. If you have any questions or comments, feel free to drop them below and I will be happy to answer them.
If you'd like to connect or a virtual meeting due to you failing the exam, add a comment below with your email and request – and we can potentially book a meeting on ADPList or virtually.
Happy studying and good luck!
FAQs
Is the Project management professional (PMP) worth it?
While PMI states that PMP certified folks that hold the certification vs. those that don't have 16% – 32% higher incomes, this only the extrinsic value of the PMP. The true value is being able to understand how to run a project effectively from start to finish. This framework can be used to approach everything, from raising a child to running a company. This is the true intrinsic value of the PMP, and why it's worth studying and obtaining the certification.
What's the pass rate on the PMP?
The pass rate on the PMP is somewhere between 50% – 65% depending on the source. The PMI used to publish this, but now only periodically provides this information to the public.
Should I take professional project management training?
You should only take project management training if it's for professional development, not if you're trying to get PDUs or contact hours. My personal belief is these trainings are over-priced and you can gain the knowledge from self-studying and the social aspect of the training from networking at your local PMI chapter.