Publish Date - May 14th, 2022
|
Last Modified - March 7th, 2023

Whether it's a team building event, work milestone or birthday – the way you celebrate employees has changed. Pandemic has changed the way that many of us work, with numerous companies switching to fully remote work as their primary means of living.
Most previous office workers won't be going back to the office at all, with a record number of companies saying that they will support fully remote jobs permanently. The benefits fully remote are numerous:
Better work life balance
Higher productivity
More savings for employees
Healthier meals
More family time
Less stressful
More comfortable Workspace
More information can be seen on Owl Labs and their report on the state of work from 2021.
This is why virtual team building activity tools have skyrocketed in popularity since the pandemic. However, new ideas and strategies are always coming out to spice things up in and around the virtual water cooler.
Before we jump into my ideas, let's lay some ground rules first for this article:
You must be using a tool like Zoom call or Google Meetings. Which means this is purely a virtual event VIA video conferencing.
You'll be targeting remote employees, with most employees being individually remote or maybe in groups of 2 or 3. It's not really team bonding if everyone else is in the office and one or two people are remote.
These ideas can support any number of things including virtual team building, a special occasion (engagement or marriage), a work anniversary or just a general team building activity.
All remote apps are fair game, which include things like Houseparty, Jackbox games or Habbo (previously known as Habbo Hotel for you millennials 😉 ).
This shouldn't be "Forced-fun". Your team members should openly be engaged enough to attend these events.
All of my examples below will align with the concepts aforementioned.
Without further adieu, here are 10 ideas to spice up your virtual celebrations with your remote team!
Digital dance party with Marquee lights, uplights and black lights.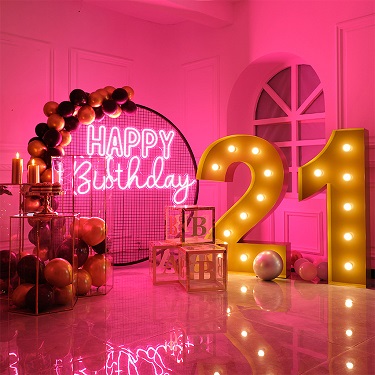 Have you ever seen a marquee light work with uplights? Picture this, it's a team members birthday and maybe they're feeling isolated, with no more office happy hour. While you may have another party ideas, consider setting up some marquee numbers and uplights as a show piece for their birthday party. You can set it as your background, or even as a "meeting" room in zoom or Google meetings. What works even better is if you have a show person like a magician or comedian attending. You can ship the products right to their house with a return label in the box, they can set-up the background and BAM.. – queue the ambiance. Consider renting marquee letters from ProlightingRental.com, their team is fantastic, reliable and affordable!
Play an online game like Among us or Geoguessr for a remote team.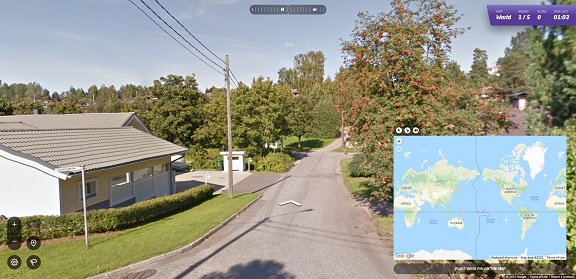 It's game night, and it's easy, cheap and loads of fun – so much so that you've probably played with your friends privately. You can play games like Among Us, where you need to find out who's the murderer but you're in space instead (lies and deception will get you far in this game).
Or, you can play a favorite game of mine, Geoguessr. This game is built off Google maps and focuses on your attention to detail and situational awareness. You're essentially dropped in the middle of a random spot in Google maps (whether you do the world, a particular country or "famous places"), and you must guess on a map where you are. The closer you are to the location, the higher points you get. I've found this great with fun with my development teammates, and it gives those that know multiple languages a leg-up while being educational for others.
PS: you can't Google names, signs, area codes or phone numbers. You must rely purely on deduction.
While none of these games foster teamwork, I must admit that it's a great way to unwind after a sprint or retrospective (if you're running agile).
Indulge in murder mystery game or trivia.
This is a pretty straight forward team building exercise, where you can play murder mystery games or just partake in Trivia. While Teambuilding.com has some amazing murder mystery games / ideas, it's important to note that there are plenty of ways to spice things up. I've seen teams create entire scenarios with Act I – Act III – with scripts, personas and even costumes. If you don't want to go to all of that effort, you can easily book someone to create trivia for you in a slideshow format, or use a game like Jackbox or Houseparty which does all of the heavy lifting. I've personally used Houseparty and it's fantastic. Please note, that it always helps if there's a little prize at the end of trivia. Whether it's a gift card or even just straight cash, that always helps keep the competitive juices flowing plus, ensures you'll have a strong group turn out.
Hire a magician, or specialist to come in and make a splash!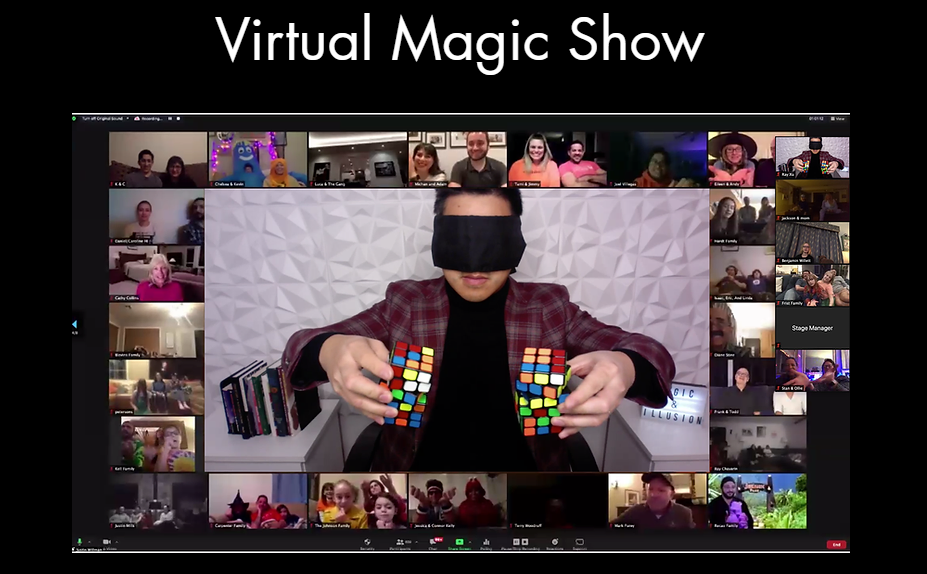 This is one has personally been not just fun for me, but easy to set-up. Consider hiring a magician or comedian to headline your virtual party. Make sure that you vet the "performer" before hand. Read up on their reviews, see if they have any YouTube videos and just do a broad Google search before hand.
I would also set some ground rules as well when it comes to jokes or things to say. Many companies now have a more inclusive atmosphere, so jokes that may be funny at the bar or out with your friends – may not work so well at your virtual party. The best thing about these magicians or comedians are, you can literally book them from anywhere in the world. My team and I once booked a Scottish magician who we could barely understand (this made it wildly more amusing).
A virtual escape room
These can be tricky but fun if you have a strong, relatively small, tight knit team. Escape rooms are already stressful – add in the fact that you can't communicate very easily with your team members and you may see tempers flare. While I've personally never done a virtual escape room, I've had colleagues and friends swear that it's been the high light of their year before. Getting together with your team and trying to figure out a puzzle under the clock seems like hard work.
Virtual scavenger hunt
This one is immense fun if you have an engaged large team, and can raffle off some serious prizes. I'm currently doing this within my department and we've created quite the strategy for this. All you need is four specific things:
Money, Gift cards, prizes, loot or some sort of reward – This is for the winners.
Organizational skills – You need to be intake information and display it in some sort of strategy or layout that's easy to understand. From my PMP training this is called a pull communications. Information radiators like internal websites or data dashboards work well for this.
A creative mind – Get wacky with the points. Take a picture on-top of the empire state building – check, 5 points. Run a marathon in a chicken suit – 10 points. All you need is pictures to confirm it already happened and the idea to build the game.
Time – This is more than your average office celebration. This could be something that starts at the beginning of January and finishes at the end of the year. It's a competition and team building all rapped in one. Therefore, you need to give this scavenger hunt time.
Ultimately, creating this and participating in this was awesome fun and with sweet prizes – it's definitely going to be an engagement hit for that employee engagement score. Note: this is definitely more of a "team event" and meant for bigger organizations.
Play a board game or role playing game digitally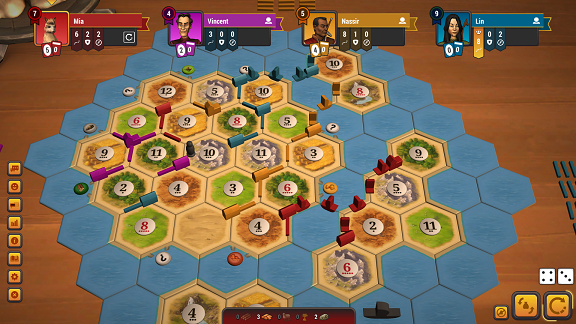 Who doesn't like to play a board game or even role play a little bit. While not everyone may fancy a game of dungeon and dragons, I was in a squad once that all agreed to play it a few times. While you're definitely way more committed to DND than say a game of virtual Monopoly, it's a relaxing way to end off a project or sprint. A game I loved playing online is Settlers of Catan (the digital edition). However, there was some learning curve and some folks on the team didn't want to play it. Always make sure to be aware of that!
Utilize a virtual office software
A little older, but stilled used for conferences and other digital events – you can use a tool like Habbo or EventFarm, which gives you an avatar which you can dress up and run around with. You can go to different events, engage with other avatars and almost pretend that you are engaging with real people. While this is definitely suited for workshops and larger events, if you work a large corporation and want to do something different – consider one of these programs!
Virtual meetings, lunches or dinners with goodies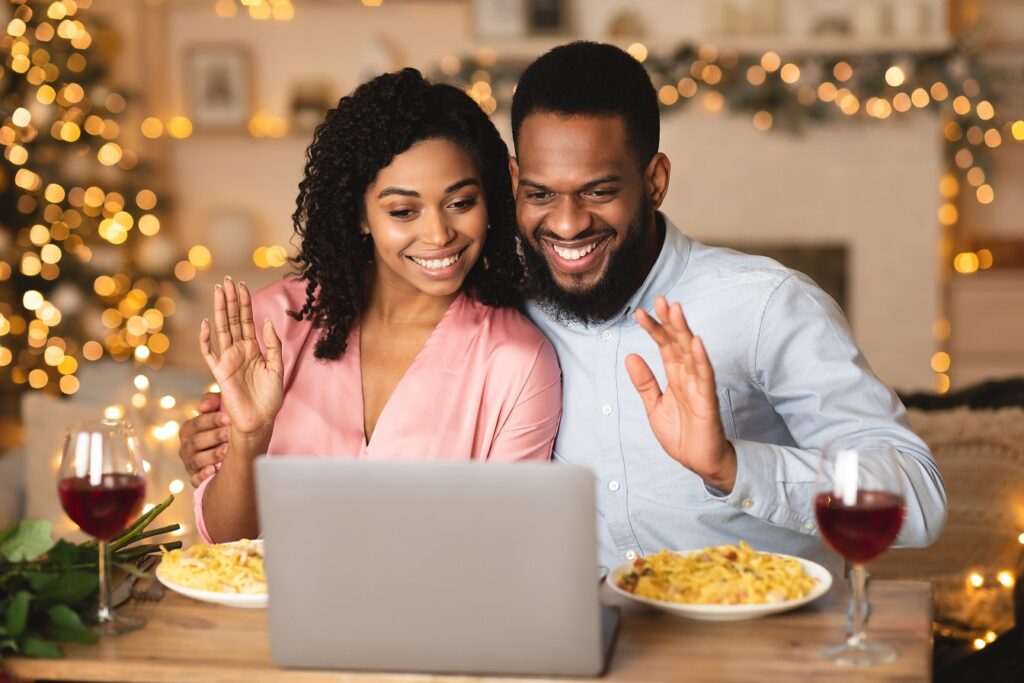 Something that everyone likes and complements great with other things above. Consider having a virtual lunch or dinner with care packages. Send your team Uber eats cards ($20 – $30 for lunch, $30 – $40) for dinner. On-top of that – for the Christmas season or New Years, you can send unique gifts or even wellness packages. There are tons of "kits" you can buy which give fun, unique or even useful items.
If some of your team members can meet in person, you can always use a company phone to call-in for different folks and let them "sit" at your table. Even though it's purely virtual presence, it's a fun way to include those few souls who need to isolate or are fully remote.
If you're struggling to find gift ideas Etsy.com has a number of unique and special things. From a virtual gift standpoint, there's always e-gift cards or online courses you can gift someone. I once had a manager gift me a course on Udemy.
Digital movie night / Netflix and relax.
A spin on Netflix and chill, is the work equivalent of the "Digital movie night". You set-up a few theatres with some different types of movies or your occasional show and watch them together as a team.
A cool thing that a friend did a tech start-up is order beverages and food to each of his team member's homes for the movie premier of Black Widow. When each team member's doorbell rang with the gift of their favorite fast food and a case of beverages, there was great merriment. Summarily, you don't need to do something as fancy as this – since I know an engineering manager that likes to unwind every 2 week sprint with 2 episodes of the IT crowd.
To each their own!
Some extra add-ons that you can have
Some special add-ons you may want keep in mind are:
Post on social media to rep your brand, show how fun you are and how much work you've put into giving your team the right vibe.
Give shout outs to those who deserve it.
Create a team playlist or track, these are always fun if they're going off in the background.
Conclusion
Due to technology, you no longer need to have an office party in person.
These events are highly interchangeable and you can consider doing multiple ideas combined. For example, you can easily start-off with an icebreaker game, head into a catered delivered lunch and then top it off with either movie or a trivia game.
You always want to remember that the purpose of virtual happy hour or Netflix and relax is to get together and unwind with your team, squad and work family.