Publish Date - May 21st, 2022
|
Last Modified - April 30th, 2023
You've finally done a few of the best Udemy courses to pad your pedigree of knowledge, or learn a new set of skills altogether. Now it's time to showcase all of those learnings in a public place in a clean and organized manner. This is so recruiters or hiring managers can recognize that you've acquired a skill. As everyone knows, LinkedIn is an amazing place to solicit feedback from recruiting experts, and even get jobs. As a lifetime learner myself, I always see the value in supporting those who look to better themselves. Therefore, this article is dedicated to walking you through "How to add a Udemy course to a LinkedIN profile", so that you can get the job of your dreams!
Out of the two dozen courses I've done on Udemy, here are some that I may want to add to my LinkedIn profile.
What I'm hoping to show anyone who reads this article is, the most effective way to showcase your Udemy certifications on Linkedin. I've broken this work into steps for you.
Note: I will outright say that Udemy certificates will very likely not get you a job, even an entrance level one. Having some sort of education, the right certificates, some basic job experience and the right connections – is the right way to get that job you're hoping to get.
1. Get the certification of completion from Udemy
The first step is to acquire the certification. Here's an example of a MySQL certification I received in April 2022. Make sure that you take a good screenshot of this because you will need it for the other steps!
One thing you want to keep in-mind is Udemy has changed the layout of their certifications from 2018 and to 2022.
Here's a course I completed in August 2018 (Web development)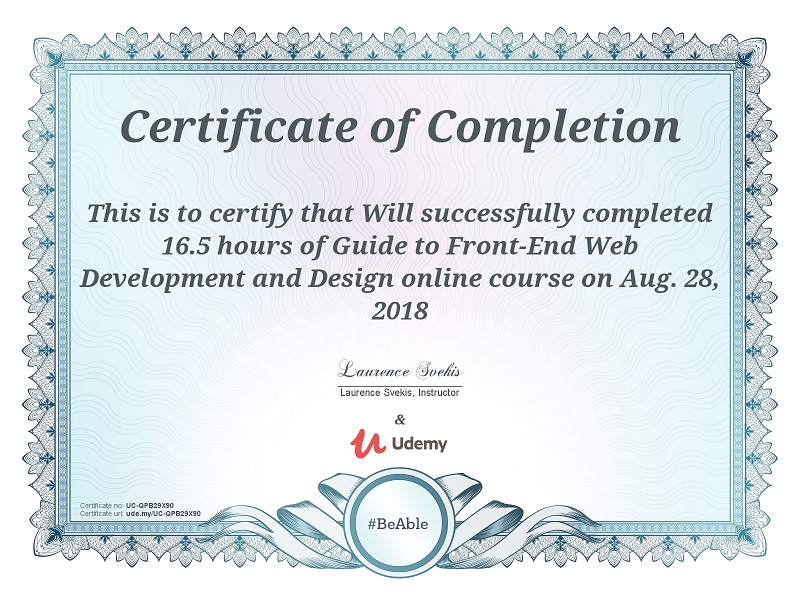 Here's a MySQL certification from April 2022.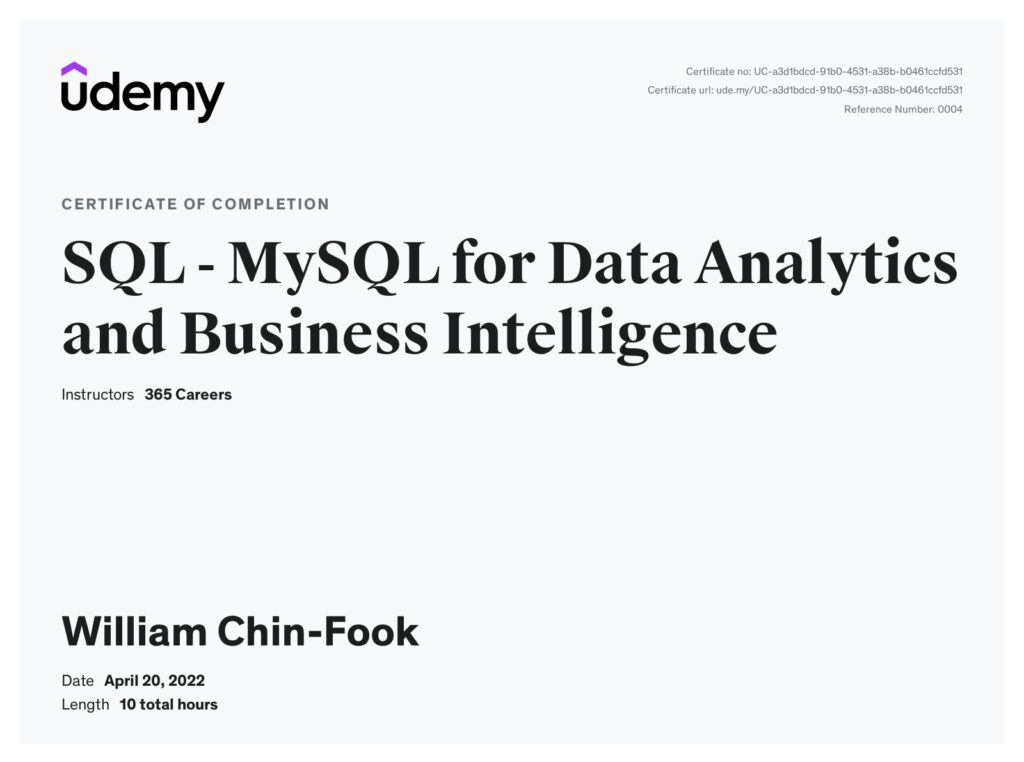 While the content is primarily the same (name of course, instructors, certification number and URL) the layouts have completely changed. Keep this in mind when you're adding your certifications, as having mismatched certificates may cause your profile layout to be confusing.
2. Head to Linkedin to post your certification
If you don't have Linkedin, you will need to go and sign-up for one. If you do however, you'll want to go to your main profile page.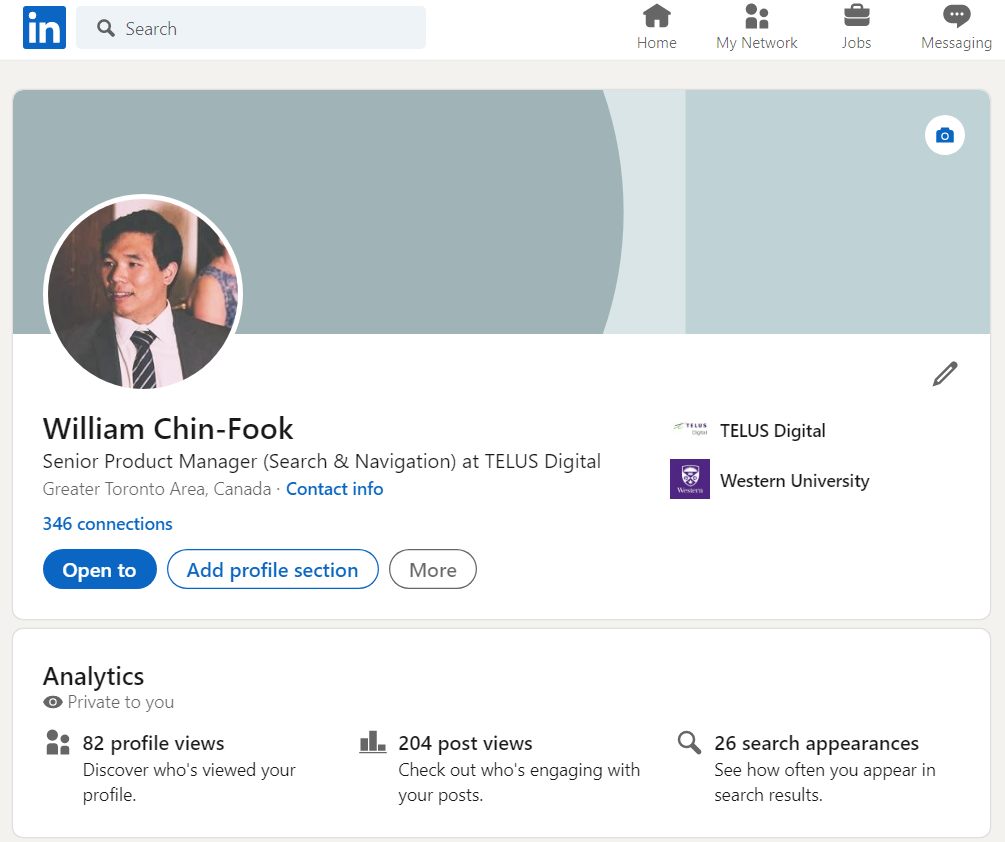 You'll want to ensure that you are logged in and that you can add images or content to your profile.
3. Figure out where you want to place your certification and add it to Linkedin.
There are three main choices you can add your Udemy certificates to on Linkedin.
You can add your certificates to the "Featured" section of Linkedin. For example, on my profile I currently have my PMI-ACP certification highlighted there for recruiters and hiring managers to see. However, that's extremely easy to change. All you have to do is get the image of your certification and upload it. See screenshots for the walkthrough!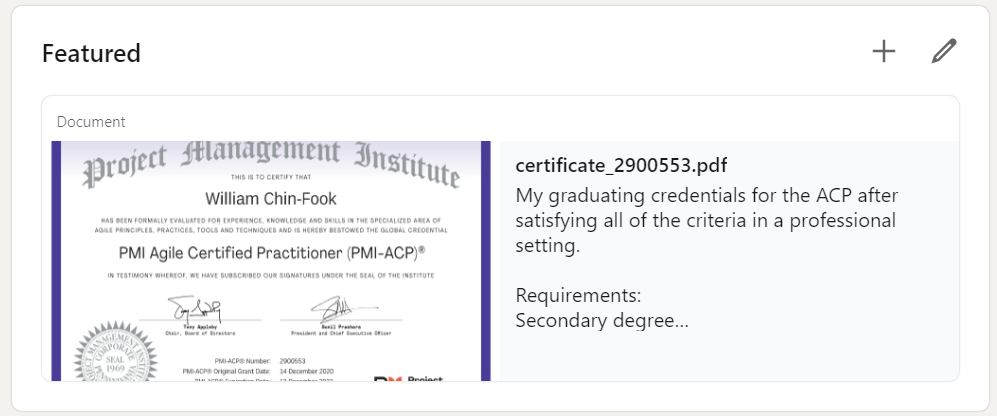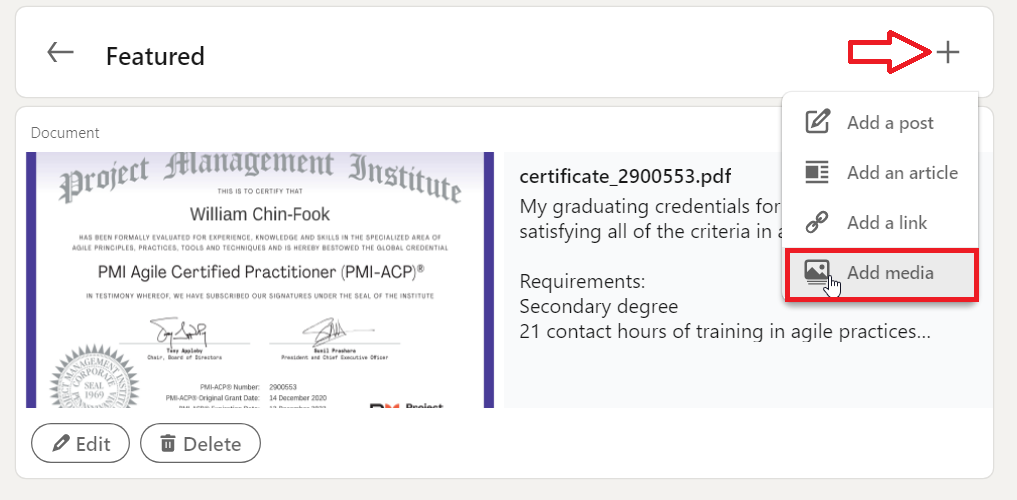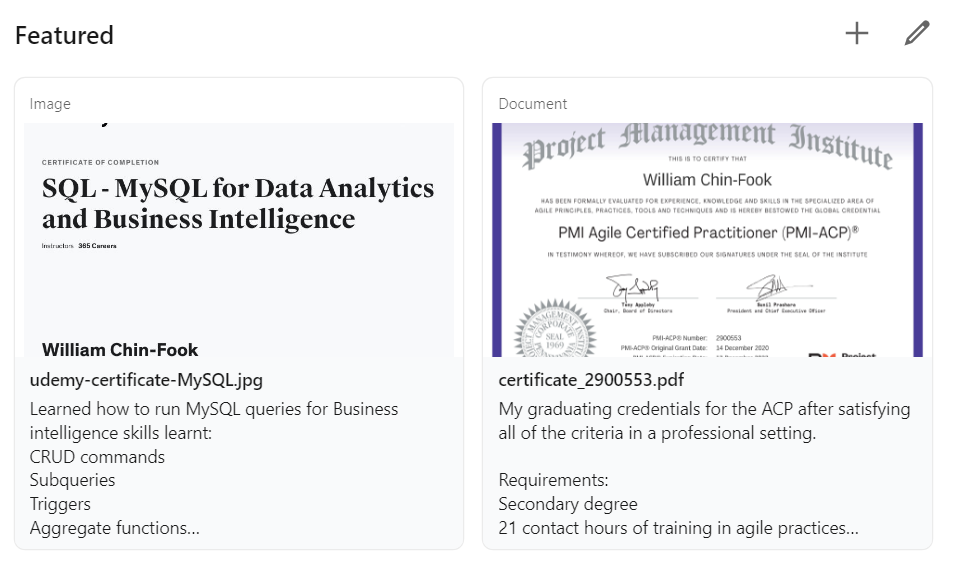 Remember to add an in depth description so that you can affect Linkedin's algorithm when recruiters are searching for particular skills!
It's simple, and should only take you 5 minutes. You can also add links, PDFs and other things to your featured section. It's one of the first portions of Linkedin a recruiter may see, so try to make it neat and logical! Remember, you can also outline a small paragraph underneath the featured image as well – so make sure to thoroughly recite the skills you learned in your certification.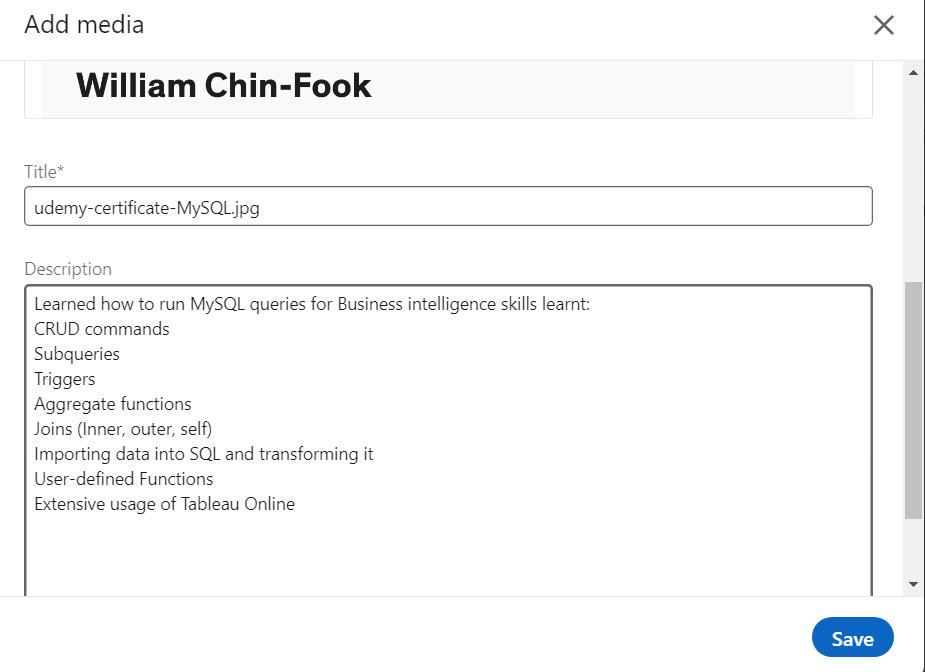 2. Adding it in your Education – You could consider adding your Udemy certification to education section, and while it may slightly fill a gap if you lack the proper credentials for a job, Udemy lacks accreditation versus some of its competitors like Coursera or Udacity.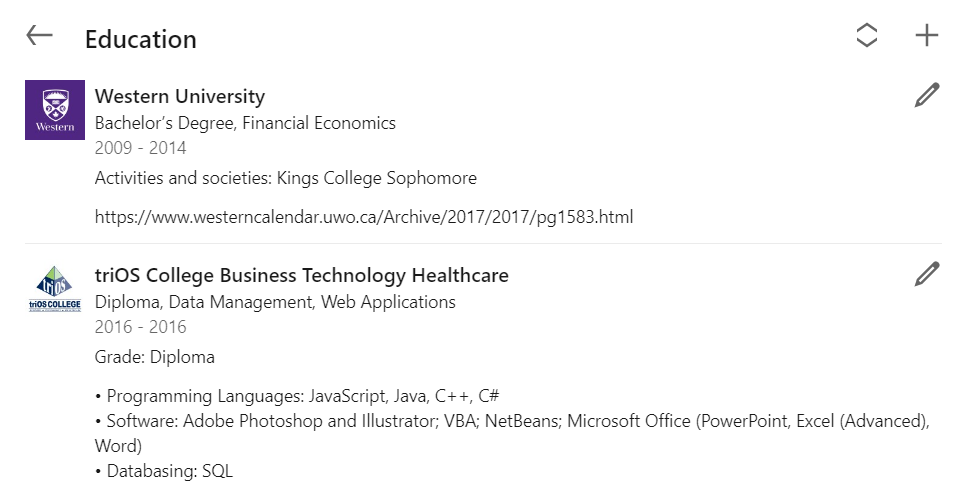 So feel free to add it there if you're like, but Udemy will not come up in the "Schools" section of Linkedin's search, probably because it's not recognized as a school.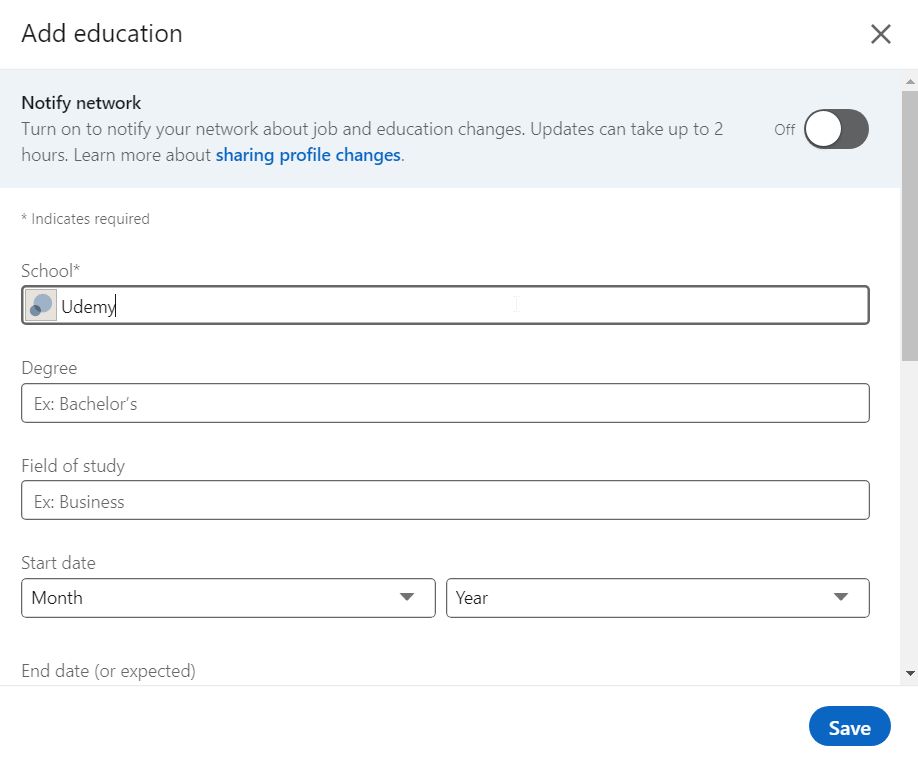 Ultimately, this isn't the most appropriate place to add your Udemy certification. This section is better suited to degrees and accredited course work or schooling.
3. Certifications is where you want to add those Udemy credentials! It's the proper place for them and Linkedin has configured them perfectly for "uploadability" :).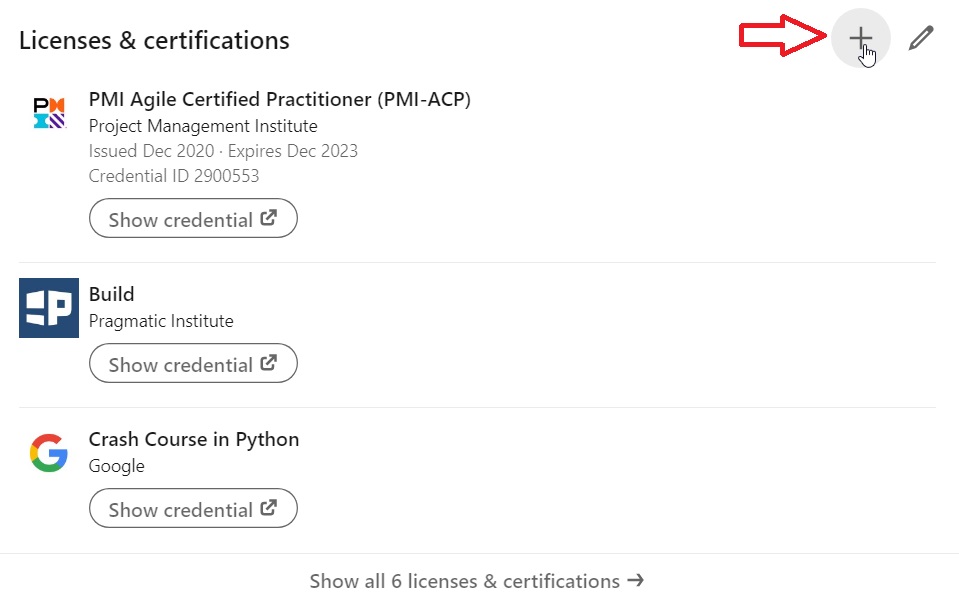 Add all of the certificate details for your course. As an example you can see I added the following for the specific fields as per my certification.
Name of the course: SQL – MySQL for Data Analytics and Business Intelligence
Issuing Organization: Udemy (Or you can choose Udemy Online Courses) there's two options.
Issue Date: April 2022 (whenever you finished the course).
Credential ID: UC-a3d1bdcd-91b0-4531-a38b-b0461ccfd531
Pro-tip, the new Udemy certifications don't allow you to copy and paste. So, instead of typing out the long alphanumeric string of letters and numbers – you can just copy and paste the ending URL portion of your credential URL.
Hit save and boom you are set!
4. Allow your network to see your accomplishments. It's important that your network sees your accomplishments, especially if you want prospective job employers to see your hard work. Therefore, you must ensure that your LinkedIn settings are set to "share updates". So you'll want to do the following:
Go to settings & privacy.
Look for the "Visibility tab" on the left side of your page.
Set the toggle to "Yes" instead of "No" for Share profile updates with your network.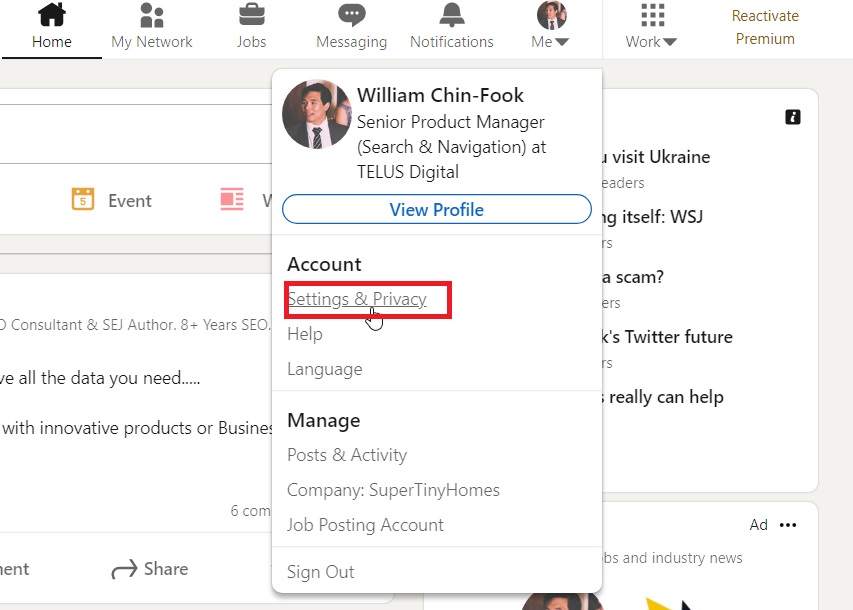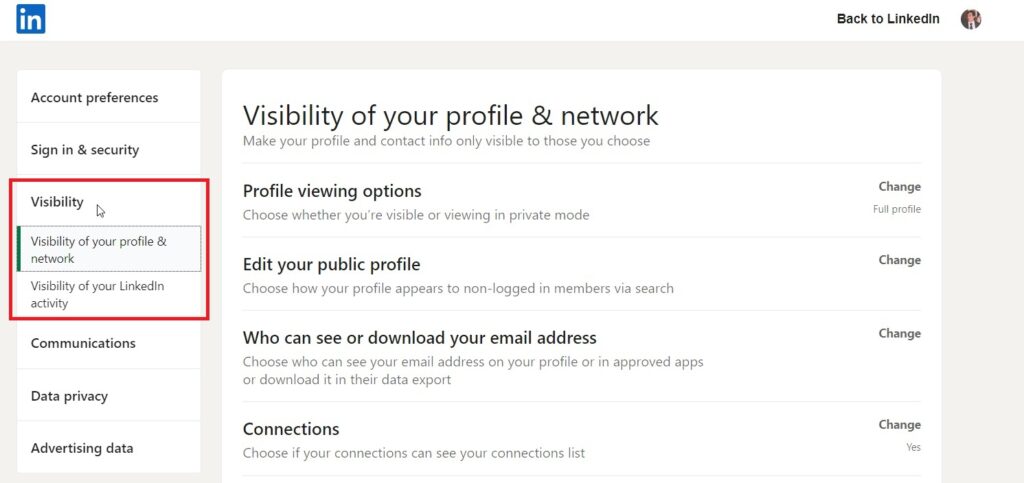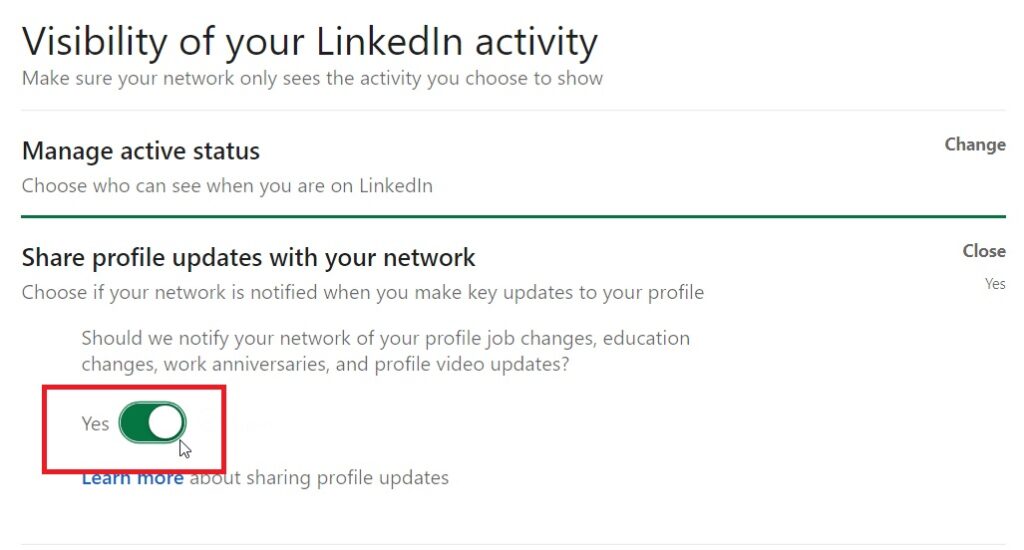 Once this is done, your whole network will be able to see your changes. Hopefully, you have a supportive network and they will "Like" and share your certifications. This will allow more people to see your effort and potentially open up job opportunities.
You can also share it on other social media platforms to increase it's visibility and clout!
Conclusion
Everything you've learned here will help make your profile stronger for recruiters and hiring managers a like. Whether it's a new skill or it's a free course, if you think it has a chance of getting you that job – I would add it to Linkedin. It should be obvious that, it doesn't just end with Udemy. Most massive online open courses (moocs) have similar learning paths where you learn a particular skill through tutorials, quizzes, tests and examinations – and subsequently provide you with a certificate of some kind. Lynda (now known as Linkedin learning) is a perfect example as it's built into LinkedIn to showcase these skills.
Learning platforms like Edx, Coursera, Lynda, Udacity and Udemy all offer free online courses, paid courses, premium memberships and certification tracks for beginners and experts a like. They also offer nice "certificates" at the end of every course which proves that you finished the course. What they can't provide though is validation and authentication that you learned the skills without cheating. When you cheat a MooC, you only end up cheating yourself since you don't absorb the information taught, thereby making your time worth less. Ultimately, the purpose of you adding these courses to your LinkedIn is getting a job and why start that job off with a massive lie and not know the skills you learned.
I hope you liked my article, leave a comment if you think I missed something!
Frequently asked Questions
Are Coursera or Udemy accredited institutions?
As specific institutions, neither Udemy or Coursera are actually accredited. However, Coursera offers a number of accredited classes, degrees and courses from universities like Yale, University of England, University of Toronto and Stanford.
What's the best eLearning platform?
While there's no one specifically better eLearning platform or massive open online course platform – Udemy is probably one of the most known, most used platforms in the entire world. There's over 24 million Udemy students with over 90000 classes registered.

Is it worth it to add my Udemy certification to Linkedin?
Ultimately, it takes less than 5 minutes to add a Udemy certification to your LinkedIn. Whether it's digital marketing, Python or brushing up on your Microsoft Excel, the process to add the certificate to Linkedin doesn't change. That being said, will adding a Udemy certification allow you to penetrate into the job market? I wholeheartedly do not think so, especially by itself as a certificate.